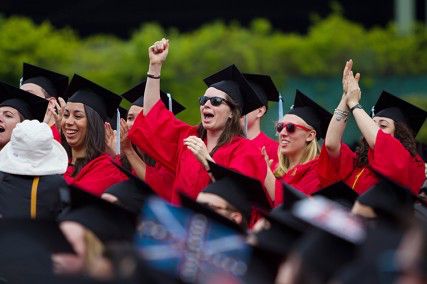 Before a teeming crowd of Boston University's newest alumni, Teach for America founder Wendy Kopp urged graduates of the Class of 2013 to use their educations to change the world for the better.
"Today, you become the stewards of BU's long legacy of promoting social justice," Kopp said. "So, as you continue your journey as BU graduates, the question you face is: What will you do to confront the root causes of violence and injustice in our world? When there is so much injustice to fight, where do you even begin?"
Kopp, in her address at BU's 140th commencement, said becoming an agent of change does not require sweeping ideas.
"When I started Teach For America, I wasn't trying to come up with an idea that was going to change the world," she said. "I was trying to solve a problem that was much closer to home. I was a senior in college and I had no idea what I was going to do with my life."
When she was unable to find a job that satisfied her after graduation, she combined her passion for education with her sense of what her generation was searching for, Kopp said.
"I felt the whole world was open to me because of the privilege of my own education, but I knew that this wasn't true for everyone — that despite our aspiration to be a land of equal opportunity, where children are born in this country still determines the educational opportunities they receive and, as a result, their prospects in life," she said.
Kopp said the world needs individuals who are committed to public service and to helping others.
"In ways good and bad, our world is more interconnected than ever before," she said. "… We cannot ignore violence, deprivation or repression wherever it exists."
Kopp received an honorary Doctor of Humane Letters degree before giving her speech. Academy Award-winning actor Morgan Freeman, Massachusetts Institute of Technology professor and chemical engineer Robert Langer and United Methodist Church Bishop Peter Weaver also received honorary degrees at the ceremony.
BU students Lingzi Lu, who was killed in the April 15 Boston Marathon bombings, and Binland Lee, who died in an April 28 house fire in Allston, were awarded posthumous honorary degrees.
Boston Mayor Thomas Menino was awarded the BU Medallion, and a scholarship program for Boston Public School graduates who choose to attend BU was named in his honor.
In his opening remarks, BU President Robert Brown said the tragedy of the Boston Marathon attacks continues to resonate at BU.
"We celebrate a scant four weeks and six days after the finish line bombings at the Boston Marathon, attacks which transformed the marathon from a celebration of striving for excellence, whether a personal best or a world record, into tragedy," he said. "We have felt the effects of these attacks acutely. Our graduate student Lingzi Lu lost her life."
He said while April 15 was a day filled with sadness, it demonstrated the selflessness of BU community members.
"As they do every year, members of our community … and student volunteers staffed the medical tents at the finish line," he said. "This year, instead of treating blisters and dehydration, members of our medical team hastened bravely to save the lives of grievously wounded spectators. These individuals represent Boston University at its best."
The Class of 2013 presented a record-breaking $44,864 monetary gift to which approximately 2,300 students donated.
Adolfo Gatti, a College of Arts and Sciences senior and the student speaker at commencement, said graduates should take what they have learned at BU with them as they enter the real world.
"When you step out of here, you realize how having known or simply talked to this multitude of personalities [at BU] has given you the most valuable tool to face life: The ability of opening your minds to others," he said.
He said he is proud to have met his friends at BU and hopes others feel the same.
"I hope that here, you met those people with whom you are going to build a life together, on whom you are ready to lean in your future moments of need and for whom you are willing to give everything you've got," he said. "… I love you, Terriers. I love you, BU."