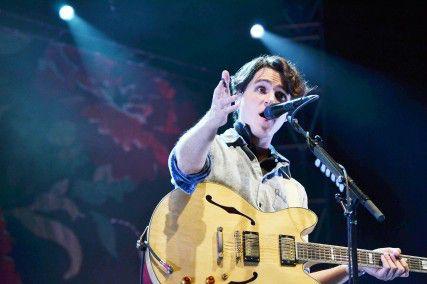 Accompanied by local concessions and sponsor vendors along the perimeter of Boston's City Hall, the first day of Boston Calling offered promise that this biannual event could one day reach the prominence of a Bonnaroo or South by Southwest festival. Popular indie rock bands, such as Vampire Weekend, Local Natives and Okkervil River marked Saturday's Blue Stage lineup.
Austin-band Okkervil River took the Blue Stage just as crowds began to stream into Boston City Hall Plaza, following Boston-based duo You Won't. Combining instrumentation similar to The National with vocals like those of Mick Jones, frontman Will Sheff danced around stage, energizing both his own band and the crowd. Although not as strong as the bands to follow, the energetic backbeat of the Okkervil River drummer Cully Symington propelled the band through its set while trumpeter Michael St. Clair's horn gleamed through the guitars, as if heralding the beginning of a triumphant weekend.
The most energetic act of the evening, Los Angeles' The Airborne Toxic Event, appeared the most pleased to be on stage. Lead singer and guitarist Mikel Jollett came onstage grinning, repeatedly praising the audience with an "I love you guys," and thanking Boston for the opportunity to play. The Airborne Toxic Event was also the tightest act of the evening, alternating between post-Nirvana grunge grooves such as those featured in "All I Ever Wanted" and "Timeless," and Queen-like arena melodies in songs such the band's biggest hit, "Changing." The shared spirits of both band and crowd pushed City Hall Plaza to great heights, rousing frontman Jollett to climb the Boston Calling scaffolding to get a better view of Boston.
Before Local Natives began its set, Boston veteran Mayor Thomas Menino took the stage to bless the festival. Members of Local Natives were equally as impressed, amazed that the youthful event could warrant a nod from Menino himself. Menino's appearance was not a mere PR boost — it was another indication of Boston's cultivation of a rich music scene.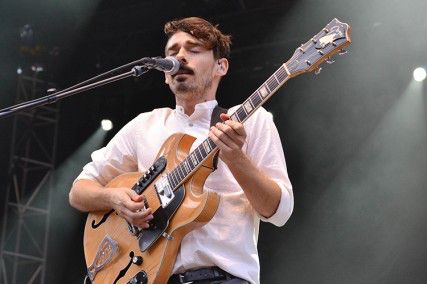 Local Natives then began their set. Though young professionally with only two albums to date, Local Natives elicited squeals from listeners with the first notes of every song, most notably with "Airplanes" and "Wide Eyes." The voices of lead singers Taylor Rice and Kelcey Ayer soared over the crowds with a Fleet-Foxes-like ethereality. Ayer's distinctive keyboard/floor tom combo utilized pulsating rhythms and sunny guitar plucking to march Boston Calling into the final two acts of the evening.
Fans heaved forward towards the stage with the emergence of Vampire Weekend, making it clear whom most audience members came to see. Unfazed by screaming moshers, Vampire Weekend flawlessly reproduced the complex syncopated rhythms of "Cape Cod Kwassa Kwassa" and "Horchata," the beautiful melodies of "Obvious Bicycle" and "Unbelievers," and spitting stanzas of "California English" and "Cousins," exactly as featured on record.
Yet, such is the nature of rock and roll and its universal appeal. Some come to groove and fold into the timeless fusion of rhythm and blues, while others come to connect over introspective poetry. Some come just to catch a glimpse of the handsome singer.
But no matter the reason for one's pilgrimage to rock and roll, one thing is for sure: Boston is ready for more.