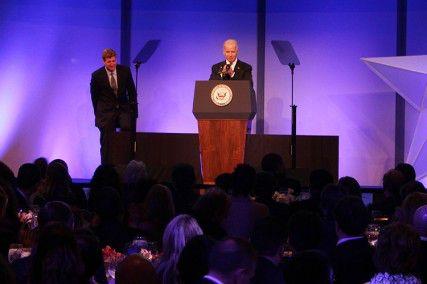 Distinguished guests, including U.S. Vice President Joe Biden, gathered to speak at a mental health forum on the 50th anniversary of a landmark mental health act.
Biden said to a crowd of about 400 people at the John F. Kennedy Presidential Library and Museum that humanity is on the cusp of remarkable changes in the treatment and understanding of mental illness.
"Imagine how fundamentally we can change society and communities for the better if we make significant strides in dealing with mental illness, [imagine] the impact on our global and national economies if we keep kids from dropping out of high school, if we keep employees from losing work … more classrooms where kids focus on school work instead of being overcome by anxiety," he said.
The two-day forum marks the 50th anniversary of U.S. President John F. Kennedy's signing of the Community Mental Health Act that was signed before his assassination and transformed the way people with mental illness are treated in the country.
Former U.S. Rep. Patrick Kennedy, U.S. Secretary of Health and Human Services Kathleen Sebelius and Chris Matthews of MSNBC also spoke at the forum about the steps they are taking to help those suffering of mental illnesses and how to educate those who are not familiar with them.
"This is the civil rights movement of our time," Kennedy said. "Together we're going to ensure not only quality treatment, but equality of treatment."
Matthews, a longtime John Kennedy historian, said Patrick Kennedy continues his uncle's work in improving mental health policy.
"President Kennedy's approach to mental health was far-sighted and bold," he said. "It called on researchers to look at the very interiors of our minds and American's to look deep into their hearts. What President Kennedy began half a century ago lives on in the patients, practitioners and policy makers right here in this room."
Biden said improving mental health treatment will benefit not only families and their finances, but also the economic status of the nation.
"As President Kennedy put it, mental illness affects more people, requires more prolonged treatment causing more suffrage by the families of the afflicted, wastes more of our resources and constitutes more of a financial drain on the public treasury and personal finances of individual families than any other single condition," he said.
Patrick Kennedy, a mental health advocate, said he and his peers have launched a bold attack on mental illness emphasizing treatment.
"It was 50 years ago, on Oct. 24, 1963, that my uncle first signed into law mental health laws to improve the quality of treatment for those [with] mental health," he said. "Five years ago in October, President [George W.] Bush signed the Mental Health Parity and Addiction Equity Act into law, and earlier this month, the Affordable Care Act exchange opened, guaranteeing that from this day forward, mental health will always be considered essential health."
The Affordable Care Act, which builds on the Mental Health Parity and Addiction Equity Act of 2008, opened for enrollment on Oct. 1 and requires coverage of mental health and substance-use disorder benefits of Americans in the individual markets that do not have them, extending federal parity protections to more than 62 million Americans.
"We made sure the Affordable Care Act includes mental health and substance abuse services," Biden said. "It's one of 10 categories of essential benefits that must be covered by health plans and new health insurance market places."
Sebelius said people must feel that they can seek treatment without being judged and that the Affordable Care Act is a step in the right direction.
"All of us know someone facing behavioral health issues," she said. "We need to get rid of the idea that it's somebody else. It's all of us. Imagine what it would mean if people felt as comfortable saying they were going for counseling as they were going for a flu shot."
Biden said change can happen in terms of destigmitizing mental illness.
"The answers are there," he said. "It's making a fundamental commitment to expend the resources and attract the best minds in the world and in this nation to figure out that most unknown part of the universe: the brain."