Local music blog Allston Pudding marked the release of its October "Localz Only Mixtape" with a concert featuring three of the mix tape bands — Drab, Soft Pyramids and Babydriver ­— at O'Brien's Pub in Allston Sunday night.
Although the periodically-released mix tapes are usually offered as a free online download, the release of the October mix tape marked the second time the blog has put together a tape in the traditional sense of the word. In true October fashion, this month's mix tapes were pumpkin-scented — that's right, smelling wonderfully of autumn.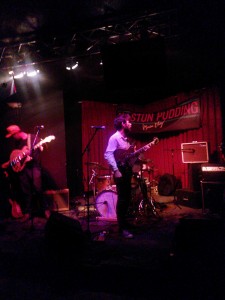 Allston Pudding's featured genres often center on different kinds of rock, but vary from punk to hip-hop to alternative-electronica to everything else in between. Unsurprisingly, Sunday did not disappoint in variety.
The crowd was still starting to trickle into O'Brien's as Boston's four-piece band Babydriver took the stage. Warm, groovy indie rock with occasional subtle hints of southern twang, Babydriver's sound might just be best described as smile inducing.
As the band launched into their set, vocalist and guitarist Tommy Palmer grinned when his voice occasionally creeped toward falsetto range, and it seemed impossible not to smile along with him. Babydriver kept the conversation to a minimum, instead storming through a set of wonderful tracks.
The set seemed to get livelier and livelier until the band closed with their featured mix tape song, "Fugitive Waltz." It was a beautiful, slightly haunting yet whimsical track that seemed to fill up the entire room and bring much more audience attention to the stage.
After Babydriver's set — and after some drink refills — the members of Soft Pyramids, settled in the audience with other music lovers and musicians, climbed on stage for their set. Despite being sandwiched between two sets, the band managed to grab the crowd's attention. The Somerville-based indie rockers sounded noisy, but sharp, with a definitive Strokes-esque vibe at times.
Soft Pyramids released their first full-length album, "Fossils of the Free World," on Sept. 30. One of the new tracks, "Around This Town," was a standout tune at O'Brien's, both catchy and melodic. Vocalist and guitarist Dwight Hutchenson seemed comfortable onstage, occasionally flailing around with his guitar during more frenetic parts of the set.
"Hands Over Mouths," the Soft Pyramids track featured on Allston Pudding's mix tape, proved to be an interesting song that fluctuates between poppy and mellow with a whole lot of guitar.
The best track of the set by far was "Waning Moon," a captivating, eerie song with some psychedelic undertones and a distinct rhythm that was difficult to keep out of one's mind even after the band had stopped playing.
Drab took the stage after Soft Pyramids closed out their set in a rollicking clash of guitars. Unlike the other acts of the night, Drab is a female-fronted band, with Tanya Power on vocals and guitar, Sophia Cacciola on bass and Jason Layne on additional vocals and drums. Based in Boston and Northampton, the trio ended the night with a new kind of sound: a raw, fuzzy medley of grunge and punk influences.
After mentioning she hadn't been to O'Brien's for about 10 years, Power launched into a slew of scuzzy tracks with Cacciola and Layne.
Drab performed a few songs from its new release — an EP titled "Unicorn," which was released on Oct. 7 — including the fun "Bebe de Bebe," in which the vocals really shined when they were able to break through the sound of the accompanying instruments. "Loose Lips Sink Ships," Drab's Localz Only Mixtape contribution, was also performed well with tight guitar work. Power closed the set by saying the show was the most fun she had in months before launching into the band's last song, "I Didn't Mean It When I Said What I Meant."
Most of the tracks the band performed had great bass lines that, coupled with the singing, gave the band a definite female Misfits sound. Unfortunately, the power of the instruments occasionally drowned Power's voice out, and the band often lacked stage presence despite their angst and spunk.
Drab's set was a bit of a rollercoaster. The band was sometimes quite fun and members talked anecdotally with the crowd. But at other times it lived up to its name, evidenced by the migration of more audience members from the stage area to bar stools during its set.
The three different sets — along with the free fall-scented cassettes — made for an interesting and fun night of local talent overall. But the night might have been more successful and cohesive had the bands played in reverse order.