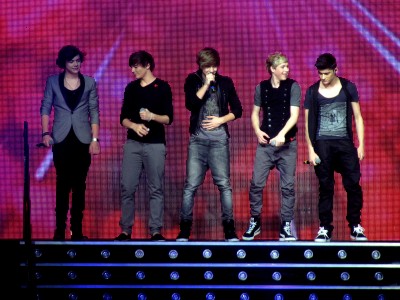 Odds are, if a person cares at all about pop music or modern music in general, that person has an opinion about One Direction. True, they are, as *NSYNC and the Backstreet Boys were before them, a boy band. True, most of their fan base is comprised of young girls with far more Twitter followers than most people. But don't be too quick to judge — the band's latest album will show just how far its sound has come from the early, simple days of "What Makes You Beautiful."
Last year's "Midnight Memories" surprised its audience with a genre shift toward rock-pop, but One Direction's fourth studio album, fittingly christened "Four," channels more of the jangly folk-pop recently popularized by songs like "Home" by Phillip Phillips or "Ho Hey" by The Lumineers. Additionally, many outside of the band's fandom might be surprised to know most songs on both "Midnight Memories" and "Four" were co-written by members of the band (some readers may care to note, in light of his recent relationship with Taylor Swift, Harry Styles's writing credits on "Where Do Broken Hearts Go" and "Stockholm Syndrome," while considering some of Swift's new songs, such as "Style").
"Steal My Girl," the first song on "Four," was released as a single on Sept. 29. Though catchy, it is actually one of the album's weaker points. The lyrics are outdated and mildly sexist. The title itself denotes that a girl can be stolen, and this theme of women as property runs throughout the song ("She belongs to me"). The boys croon, "I'm never gonna let another take her love from me," but that implies the titular girl requires protection. These misogynistic concepts could leave a negative impact on much of One Direction's (young, female and impressionable) fan base while simultaneously alienating the portion that knows better. Sadly, though it improves the song, its melody is not enough to make it great.
Echoes of last year's "Story of My Life" begin the enjoyable but generally forgettable "Ready to Run." The song is by no means offensive, but rather so radio-friendly in its acoustic chant that it feels already too familiar by the end of the first listen.
Fortunately, the album's mediocre start leaves room for improvement, and the band takes full advantage of this with "Where Do Broken Hearts Go," a belt-it-with-the-windows-down anthem for getting back the proverbial girl (though it is fair to note that the lyrics contain no gender pronouns identifying either the singer nor their "baby" as male, female or anything in between, unlike the album opener).
Though it might have been easy to turn a song called "18" into a cheeky acknowledgment of the older portion of One Direction's fan base, the soft sound and sweet, if simple, lyrics ("All I can do is say that these arms are made for holding you" is more Hallmark card than Pablo Neruda) make for a touching tale of lasting love. You'll find none of "Midnight Memories'" guitar-shredding or sing-screaming here, only acoustic strumming and vocal harmonies.
"Fool's Gold" uses the same quiet emotion, employing a falsetto-based chorus and simile-laden lyrics to convey a false love. "You're the raise on the waves that calm my mind," Niall Horan sings, only to admit one line later, "I know in my heart you're not a constant star." The song itself is so pretty, again with the acoustic guitar and harmonies, that the listener gladly accepts that the singer is happy to be heartbroken.
Between the two is "Girl Almighty," a contrast to the earlier "Steal My Girl" in that the girl in question this time has some agency in her romantic decisions (though she is still judged for them: "Some say she's such a fake/ That her love is made up, no"). This song's head-bopping tune is catchy and fun, complete with "oo-ooh"s and "no, no, no"s. Its lyrics are a cheerful tribute to carefree love ("Let's have another toast to the girl almighty/ Let's pray we stay young, stay made of lightning"), making it a perfect sing-along for fans of any age.
"Four" continues to impress with "Night Changes," a companion piece to "18" in its shared themes of time and age, but a tad darker in its recognition of the real-life struggles associated with growing up: "We're only getting older, baby/ And I've been thinking about it lately/ Does it ever drive you crazy/ Just how fast the night changes?"
"No Control" is probably the best song on the album. Similar to "Where Do Broken Hearts Go" in its windows-down, volume-up playability, its lyrics are clever and match the mood and rhythm of the song: "In the heat, where you lay/ I could stay right here and burn in it all day." The drawn-out pace of words in each verse conveys a building tension that bursts in short, yell-able chorus lines as if the singer really does lose control.
The album returns to its soft, acoustic-sounding core with "Fireproof," but the final three songs each carry a distinct set of influences unlike other songs on the album. "Spaces," with its pessimistic lyrics ("Who's gonna be the first to say goodbye?") adds heavy significance amidst swirling rumors of a potential breakup, further solidifying the seriousness of this album. Its big, sweeping chorus makes the song a real stadium ballad, at times almost reminiscent of Coldplay or The Killers. "Stockholm Syndrome" is also redolent of surprising influences, including Phil Collins and The Police, though perhaps a more modern comparison would be "Latch" by Disclosure. "Clouds" has a punk-pop vibe verging on teen angst that fans of The All-American Rejects circa "Move Along" might be familiar with.
Though One Direction really hits its stride with the folk-pop influenced album "Four," the album's best moments tend to be when the band strays from the expected and delves into a new, more experimental sound. This album isn't the bubblegum pop you might have expected it to be. Think twice before you dismiss the band as nothing more than guys on the posters in your little sister's room.