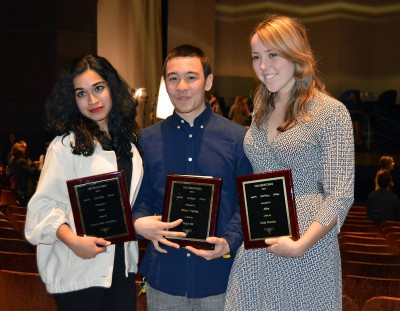 Boston University's Film and Television Department rolled out its red carpet Wednesday night for the 35th annual Redstone Film Festival. The films screened ranged in topic from drunken grandmas to bloody redemption, and the BU students behind them took home a diverse pool of awards to match.
"I thought that the variety of films was really nice," said Madeleine Jacob, a senior in the College of Arts and Sciences who attended the film festival. "None of them really covered too similar of topics."
The seven finalist films took the audience to a host of settings, including the wintry woods of rural New Hampshire, the cabs of Tianjin, China and the local landscape of suburban Boston. Three films even included foreign language dialogue.
"That's unusual, but what a lovely surprise that is that people are working in other languages," said Jan Egleson, an associate professor of film and television in the College of Communication and a faculty coordinator of the festival. "I think it speaks well for the students that they do it, and nobody makes a big deal about it. I'm really glad to see that."
One such film was first-place winner Bryan Sih's "Winter/Spring." Performed entirely in Spanish, the film explores the changing relationship between a young couple on the verge of parenthood. While he expressed his gratitude for the award, Sih, a 2014 COM graduate, shared a dissonant opinion of competitions as a whole.
"I don't like competing in an art form," Sih said. "You would never put a [Jackson] Pollock up against a [Mark] Rothko. You would just exhibit both in a museum. I'm just saying that most art isn't subject to competition. You go to a music festival and listen to your favorite bands, but no band wins. That would be ridiculous, because we just want to camp out and enjoy the music. So why can't film be like that?"
While he appreciated the competitive component of the festival, Egleson also said the awards come secondary to the screening portion of the event. The mission of the Redstones, Egleson said, lies in acknowledging the combined efforts of the faculty, staff and students.
"We all work collaboratively together. Motion pictures are a collaborative art, and that's something we teach here," Egleson said. "The competition is a nice side thing to it, but we all know that in the medium of film, individual achievement is on the broad shoulders of your collaborators."
Additional winners included Jim DanDee for editing and sound design in "The Phoenix," as well as Cheryn Park for cinematography in "Vows," a drama following the journey of a young, pregnant woman seeking redemption for domestic violence.
"I think it's [the film is] just [about] the idea that strong women don't necessarily have to be this dominatrix, tough, stereotypically strong women," said Park, a 2014 COM graduate. "You can find strength from wherever you are and in whatever kind of situation you're in."
Following the female empowerment theme introduced in "Vows," the Adrienne Shelly Foundation Production Grant was awarded to Emily Sheehan, a senior in COM, for her screenplay "Skipping Stones." Since 2007, the Adrienne Shelly Foundation has supported female filmmakers by awarding them scholarships and grants.
"It's encouraging," Sheehan said. "I feel incredibly honored to have been awarded the grant in the first place. It makes me sad that the last Academy Award-winning female director was Kathryn Bigelow in 2010 … That was the first time and the only time. So I hope that changes soon, and I hope that I can be amongst the wave, or even a part of that somehow. I think that women have a unique voice that I'll do my small part to share."
Allison Ajemian, a sophomore in COM and the producer of "After," which Sheehan also directed, emphasized the fulfilling feeling of being able to witness the audience's reaction to the films in person.
"Seeing the way people react to things and seeing that this many people actually care about student work is pretty cool," Ajemian said.
Several finalists also gave positive feedback regarding the night's screenings, noting the importance of the communal nature involved with creating student films.
"I thought the Redstones this year were among the best I've seen," said Vijayta Narang, producer of "Vows" and a 2014 COM graduate. "I am fortunate enough to be friends with a lot of people who work on these, and I definitely appreciate now more than ever the collaborative effort that goes into making all of these films."
And showcasing student work through this annual event is not ending anytime soon. According to an announcement at the event by Film and Television department chair Paul Schneider, the Sumner M. Redstone Foundation recently made a generous donation to the Redstone Fund, allowing for the festival to exist in perpetuity.
"I'm heartened by all the work because it's all very strong," Egleson said. "I think one thing that really distinguishes what we do here is that we're very open to the voice of the filmmaker. What we try and do is make sure that every voice is heard."