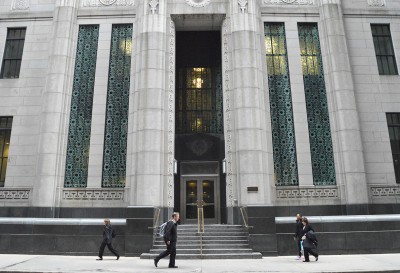 The U.S. Department of Education's Office of Civil Rights began holding open office hours Wednesday for the Boston University community to aid in the department's Title IX investigation.
The investigation includes a review of university's policies and practices related to the Title IX Education Amendment of 1972, a federal law that prohibits discrimination on the basis of sex for institutions, including universities, that receive federal funding, according to the U.S. Department of Education's website.
In May 2014, BU was included on a list of 55 schools under investigation for inadequately handling sexual violence and harassment complaints under Title IX, The Daily Free Press reported on May 1, 2014.
The OCR's meetings will allow members of the community to share information during confidential appointments during the two available dates, according to an April 16 email distributed by the dean of students office. The second office hour session will be held on Tuesday, according.
Colin Riley, a university spokesman, said BU will continue to comply with the OCR.
"We've dealt with the Department of Education's Office of Civil Rights in the past. We continue to work with them. We'll be responsive," he said. "They'll probably meet with the appropriate individuals, here at the university, they deem people they want to chat with about areas of responsibility."
OCR aims to gather a wide range of perspective on existing issues, adequacy of college's response to complaints and potential solutions, the email stated.
Kenneth Elmore, the dean of students, said he hopes this review and investigation will benefit both BU and the OCR.
"We understand that a routine part of the investigations being conducted by the Office for Civil Rights on a number of college campuses, includes confidential student interviews — we have cooperated fully with this process," he wrote in an email. "We hope that the investigators will share any useful feedback from our students. We want to continually improve our processes and approaches to dealing with sexual misconduct on campus."
As of Wednesday there are now 118 sexual violence cases under investigation at 108 postsecondary institutions including BU, according to a list from the OCR.
Maureen Mahoney, director of BU's Sexual Assault Response and Prevention Center, said she encourages students to continue tackle the issue of sexual misconduct on campus.
"I urge BU students to take advantage of any opportunity to have their voices and opinions heard, whether it is in meetings with the representatives of the OCR or by participating in the Climate Survey on Sexual Misconduct sent to students last month," she wrote in an email.
Several students said that the review and investigation is a positive opportunity for BU to revisit its Title IX policies and current issues on campus.
Jamie Allendorf, a freshman in the College of Communication, said sexual assault on campus is a difficult topic for universities to tackle independently without external help.
"What's interesting is that BU just recently went completely in line with Title IX, like in February, but the legislation was passed, like, decades ago," she said. "A lot of universities across the United States, across the world really, don't know how to handle this topic it's good that there's a third party committee coming in and investigate."
Alexis Fahrney, a freshman in the College of Arts and Sciences, said the OCR's visit is a good chance for members of the community to speak out on the issue.
"We have a pretty active student body in terms of voicing concerns about it [sexual assault] and BU has done a really good job in responding the concerns," she said. "Part of it, the fact that we're not having a ton of issues, is because our student body has been voicing concerns."
Brian Koh, a sophomore in the Questrom School of Business, said he hopes the privacy of the meetings can elicit thoughtful feedbacks.
"Solutions to sexual misconduct on campus is a very important topic but for some reason, I don't hear a lot of conversation around it," he said. "I hope OCR's visit can attract those who have something to say to actually say something since it's confidential, private from thepublic. Maybe BU will get honest students insights too."
Christy Osler contributed to the reporting of this article.