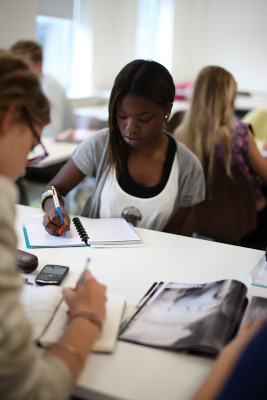 A new Boston University task force will develop BU's first ever University-Wide General Education Program, which will outline the core knowledge and skills students must acquire during their undergraduate careers.
The Task Force on General Education, which is responsible for imagining the plan, aims to ensure that students are receiving the most valuable undergraduate education possible by providing them with the unique skill-set and interdisciplinary tools needed to succeed in today's world, based in a uniform set of core course requirements.
"This is about our future, and this is also one of those things that happens at a college or university that can give us a sense as to who we are and what we're about as a community," said BU Dean of Students Kenneth Elmore.
General education guidelines will create a core education experience shared by all students, Elizabeth Loizeaux, co-chair of the task force and Undergraduate Affairs associate provost, said in an email.
"The common program would define for students, faculty, staff, parents and future employers the knowledge, skills and habits of mind that every BU graduate should possess," Loizeaux said. "It would make explicit what we value as a university. It would also say what's distinctive about a BU education."
The task force will develop a general education criterion that integrates requirements for a student's majors as well as courses outside of that student's chosen career path, Loizeaux said.
"The major is a crucial part of undergraduate education," she said. "It's important to emphasize that general education, the major and open electives are all essential parts of a single degree. General education and major requirements will undoubtedly overlap."
Students and faculty are encouraged to engage in further discussion about what they would like to see as part of the criteria and express their opinions on the task force website and in community meetings slated for the coming months, Loizeaux said.
Several students expressed support for the potential of a general education criteria to encourage interdisciplinary partnerships on campus, but others were concerned that such a program would limit their ability to pursue courses strictly within their major.
"It will probably bring the schools together, because right now it seems like they're really disjointed," said Liana Gerstein, a senior in BU's School of Education. "As long as they are skills that are applicable to every major and every single program, I think it'd be incredibly beneficial."
Gerstein said general education criteria would be specifically beneficial to her undergrad experience as an education major.
"It would allow me to think more critically about my major and how I can use the skills in my major to also bring in interdisciplinary topics," she said. "I'd be able to connect subjects in a way that would be more profound and more interesting."
College of Arts and Sciences junior Claire Wells said the requirements would provide students with a liberal arts education helpful for all fields of study.
"I'm in CAS, so I have the biggest amount of general requirements," she said. "I know a lot of people don't take any language or any humanities and liberal arts, and I just think it's really important that the school as a whole has that basic general education."
Kyle Schultz, a freshman in CAS, said although general education criteria might help her because she has not yet decided her major, it would not benefit students in highly specialized majors.
"I think it'd make it a lot easier to switch between colleges," she said. "As an undeclared freshman, I would like the possibility to go into engineering or Sargent [College of Health and Rehabilitation Sciences] or [the College of Communication] without worrying about wasting credits. However, I feel like, if you know you want to be an engineer, you shouldn't have to spend your time doing things that aren't really going to apply to you."