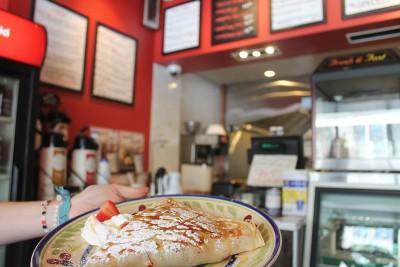 Crispy Crêpes Café opened its new location at 714 Commonwealth Ave. Sunday after a five-month absence, said the café's co-owner Said Bendok.
The café previously inhabited 512 Park Drive, near Boston University's South Campus. After operating for 13 years, the café closed its previous location Oct. 31, 2015 due to long-lasting issues with the landlord, The Daily Free Press reported Nov. 9, 2015.
The café specializes in "bringing the delicious taste of French crepes to a convenient location right in the heart of BU in Boston," according to its website.
Bendok, 49, of Somerville, who owns the café with his brother Brahim Bendok, said the restaurant's first three days in its new location have been busy and have attracted a lot of attention from students.
"Being in the new location is already a lot better," Bendok said. "We've gotten a lot of foot traffic, it's a good location on Commonwealth Avenue and so far, it's busy. We're happy. We're excited."
Bendok said the move to a central location on BU's campus was a conscious decision, as they wanted to continue to primarily serve students.
"We wanted to stay near campus," Bendok said. "Most of our customers are students. They're nice, they're easygoing and we have a very good experience with them. They haven't really given us issues, so we wanted to be among students."
Though Crispy Crêpes's location is currently at BU, Bendok said expanding to other universities in and around Boston might be a possibility in the future.
"If we couldn't close the deal on this location, we were looking at Northeastern [University], [Boston College] or Harvard [University]," Bendok said. "Maybe we can expand to different locations in the future, as long as we are around students because we love working for them."
Bendok said he is pleased with traction of the new location and has experienced a warm reception from customers so far.
"A lot of people have been coming in," Bendok said. "We closed for five months, and people are very excited we are open again. And so far so good — we've been busy all day."
Bandok said though this location is different, he is eager to see how customers respond to the smaller space.
"The other location was bigger and very convenient because of the size," Bendok said. "We haven't experienced the weekend in this location yet. [At the previous location,] a lot of people came in on Saturdays and Sundays. Huge groups would come in. Now…students take their food to go or sitting outside."
Several students said they were glad to see Crispy Crêpes open again, and having it right on campus is a plus.
Daniel Leary, a junior in the College of Arts and Sciences, said the food at Crispy Crêpes sets it apart from other restaurants on campus.
"Whenever I go there for a meal, I feel like I am getting a home-cooked meal from another family," he said. "Their food and they way they prepare it is also unique. Who would have thought that I would frequent a Moroccan restaurant?"
Amanda Bierschenk, a senior in CAS, said the convenient timing of the new opening makes up for the café's sudden closing in November 2015.
"I have been going there since I was just a freshman," she said. "I was a little heartbroken when they closed and was really worried they wouldn't reopen before I graduate this year, but thank goodness they did."
Marwa Sayed, a junior in CAS, said one of the best parts of Crispy Crêpes is its menu's variety and halal options.
"Crispy Crêpes is one of the only places in Boston where I can get halal food," she said. "They have such a variety of things you can order, from brunch items to shawarma to pasta. They most likely have what you're in the mood for. There also aren't a lot of other, if any, Middle Eastern-based restaurants on campus."
Shikha Sharma, a junior in the College of Engineering, said she had only known of the store's reopening on Commonwealth Avenue for two hours before her first visit. Sharma said the store in South Campus was "very close" to where she lives.
"We went to Crispy Crêpes a lot … twice a week back then," Sharma said. "It was pretty spacious, so it was convenient … But even though they've downsized now in terms of the space, I would definitely come here because of the food."
Brianne Garrett contributed to the reporting of this article.