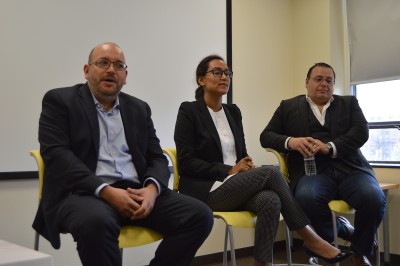 The Boston University College of Communication presented The Washington Post's Tehran correspondent Jason Rezaian with the Hugo Shong Reporting on Asia Award Tuesday for his work in Iran prior to his arrest. The award was initially presented to Jason's brother, Ali Rezaian, on Dec. 8, 2015 at BU when Jason was still imprisoned, The Daily Free Press reported Dec. 9, 2015.
Jason Rezaian was convicted of espionage and held in an Iranian prison for approximately 18 months starting on July 22, 2014. He was released in January with three other U.S. citizens in a prisoner swap. BU Class of 2008 graduate Matt Trevithick was also released from his 40-day detainment in an Iranian prison, though separate from the prisoner swap, The Daily Free Press reported Jan. 16.
Rezaian, his wife, Iranian journalist Yeganeh Salehi, and his brother Ali talked about Jason's time in jail, Salehi's experience dealing with her husband's imprisonment and the nature of journalism in Iran. COM Dean Thomas Fiedler moderated the conversation for an audience of approximately 60 students and faculty members in the COM building.
Rezaian, who holds a dual U.S.-Iranian citizenship, said he felt a drive to report from Iran due to the dissonance between his family's roots, personal knowledge of the culture and the way the country is portrayed in American media.
"What I saw being portrayed in the news about Iran didn't really jive with my experience in my family and left a lot of curiosity for me," Rezaian said during the conversation.
Despite his experience with the tension among journalists in the Middle East, Rezaian said covering Iran and its surrounding areas is important for journalists.
"I spent so many years trying to illuminate this country that, in the United States, is often … misunderstood," Rezaian said. "I tried to make it understandable for American readership, and I would be doing readers and myself a big disservice if I didn't finish the loop on that."
During the Q&A session, Salehi, who was imprisoned for 72 days, said that despite the circumstances, she still considers Iran home.
"[Iran] is my country … I was born and raised there for 31 years," Salehi said. "Although I really embrace my new situation as a new immigrant to America … I love Iran. It's in my blood, for better or worse."
Rezaian said he made the conscious decision to move from San Francisco to Iran five years ago and aims to "go back [to Iran]," he said. "We will go back at some point. Not any time soon."
After the discussion, Fiedler said the ceremony acknowledges the important work Rezaian put forth before his arrest. He said Rezaian's experiences represent the challenges journalists face in the Middle East.
"This is an opportunity to give an award to someone in person who obviously could not have been here five months ago," Fiedler said, referring to the initial ceremony in December 2015. "It's, in some ways, a celebration for [Rezaian], and it is completing something we felt was very important."
Fiedler said Rezaian's instinct to follow his curiosity and report from Tehran reflects typical characteristics of a journalist.
"One of the expressions journalists often use is 'ride to the sound of the gun,' and that's what Jason chose to do," Fiedler said. "He was curious about a place where he had family roots, and he felt there was a story to be told there."
Several student attendees said they were interested to hear about Rezaian's experience because it is different from much of what is taught in class.
Chenchen Zhao, a senior in the College of Communication, said she was most interested in Rezaian's experience in jail.
"I really wanted to know … how he dealt with being in prison," she said. "We are journalists. I am from China, and it's a shock for me to hear that China is the second-largest country holding journalists [in prison]. Personally, for me, I can learn from similar problems in the future when I go back to China." 
Season Ji, a first-year graduate student in COM, said learning about Jason's experience abroad piqued her interest in foreign reporting.
"Before coming here, I wasn't interested in the issue because I know, especially coming from China, journalists got detained all the time," she said. "This time, I was surprised that he actually came here and talked. I am interested in … reporting in the Middle East. This was really educationally informative and inspiring."
Amy Laskowski, 30, of Winchester, said she appreciated Rezaian and Salehi's open conversation about what they had to go through in Iran.
"Today was really powerful," she said. "It was interesting to listen to him talk about what it was like to be in solitary and all the hoops they had to go through to get out. I read a couple of his articles, like the baseball one. He really tried to cover what everyday life was like in the country, and that was really cool."