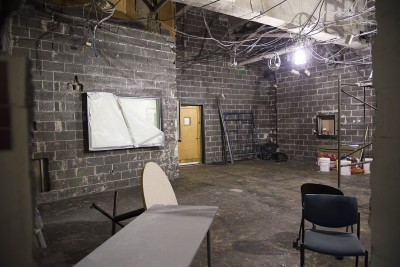 Boston University's student-run radio station WTBU will resume broadcasting this fall, more than five months after its studio was burned in a three-alarm fire triggered by a short circuit.
The staff has put a lot of time and effort into the station's recovery, including creating a #SaveWTBU fundraising campaign, General Manager Christie Leist wrote in an email.
"We spent a lot of time trying to keep the WTBU momentum going on and off campus," Leist, a senior in the College of Communication, wrote. "[Our efforts include] meeting with esteemed alumni like Howard Stern, and sharing his support also helped us spread the message that WTBU still has a lot of passion."
WTBU will operate just as it did before the fire — the station has already established a schedule for the fall semester and will look for new talent to join on, Leist added.
"For the upcoming semester, WTBU plans to continue to bring in as many new interns as possible," Leist wrote. "A permanent location is on the way, but we have a full schedule, same as every other semester. We will continue to DJ live events and maintain a presence on campus that way."
Jonathan Kassen, the technical operations manager at WTBU, said the radio station will operate in a temporary studio with upgraded equipment, including new microphones and an additional computer. A permanent location is still being arranged.
"From a listener's point of view, they won't be able to tell a difference that we're in a temporary studio," Kassen said.  "Any difference they may be able to tell will be an increase in audio quality on the streaming site and the archives being available … But mostly everything should be as it was before."
The most exciting update for this semester is an online archive of every WTBU show, Kassen said. Listeners can now access their favorite WTBU shows at any time.
"Years ago, the station had straight archiving, and it was really popular," he said. "At one point, nearly 40 percent or more of the listening were via the archives."
The fire, located in the COM building at 640 Commonwealth Ave. caused an estimated $500,000 worth in damage, according to the Boston Fire Department.
Five people were sent to the hospital for smoke inhalation — one BU Police Department officer, one BFD firefighter and three BU students, The Daily Free Press reported March 25.
Paul Maloney, a senior in the Questrom School of Business said he was in Warren Towers when the fire broke out, but he was originally unaware the fire was in the WTBU studio.
"There were dozens of fire trucks," Maloney said. "The whole place was cleared off, and my friends and I had to go the back way in order to get to class. I didn't even know it was in WTBU. We thought it was one of the science schools next door that burned down."
Students said they look forward for WTBU's return, but they wish the station can involve more members of the BU community in its programing.
Sarah Saven, a junior in COM, expressed sympathy for the temporary loss of WTBU, but said the station might have been able to prevent the fire if there had been newer equipment in the studios prior to the incident.
"The fire was really sad, but it makes me think that they didn't have the right equipment, or they had really old equipment," Saven said. "Not that it was anyone's fault — nobody set a fire — but it could have been avoided."
Saven also said she feels that student-run radio stations are an important part of college campuses, but WTBU could do more to increase awareness on campus.
"College radio stations give people who want to work in radio experience, but it also gives the student body a voice," she said. "They should have more awareness on campus, have people in the GSU Link tabling or post on social media."
Peter Kellner, a junior in the College of Arts and Sciences, also said WTBU could increase its presence on campus by hosting different organizations at BU on the air.
"It would be cool if WTBU became a bigger part of campus," Kellner said. "They [can] announce sports games and interview people from clubs people involved in different things around BU."