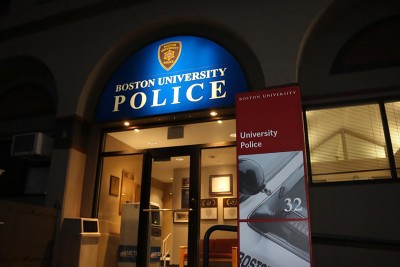 As Boston University Police Department officers patrolled the streets in plain clothes and unmarked vehicles between Thursday and Sunday, BUPD Captain Robert Molloy said he hopes the department's annual alcohol enforcement patrols can curb underage drinking.
In cooperation with the Boston Police Department, officers focused on various locations close to BU's campus where students under the age of 21 frequently visit, Molloy said.
"[BUPD] brought eight people to the hospital this weekend," he said, including one intoxicated male who passed out in Basho Express and one intoxicated female in the bathroom of Warren Towers. "So our overall goal is not to see as many of these alcohol transports every weekend."
Andrew Pugliese, a sophomore in the Questrom School of Business, said while he appreciates BUPD's effort to create a safe campus, he hopes officers are less intimidating.
"[BUPD officers are] definitely here to protect us, and that's a good thing," he said. "But they can definitely do a better job of making the campus seem not so strict and locked down on partying — that's just a normal part of college."
The department's efforts did not go to waste — since the enhanced patrol program launched in 2011, BUPD has continued to transport less intoxicated students to the hospital, Molloy said.
From the 2014-15 academic year to the 2015-16 academic year, the total number of transports dropped from 170 to 155 students, and the majority of them were freshman, according to BU spokesperson Colin Riley.
"We take some credit that the numbers are going down, but it's not just [the police department]," Molloy said. "It's also the education, other agencies [and] messages given to students throughout the year."
Besides the alcohol enforcement patrol, the university also has educational programs, such as the AlcoholEdu for College, which educates incoming freshmen about underage drinking, Molloy added.
During the Matriculation Ceremony Sept. 4, BU President Robert Brown also advised students against drinking and using marijuana, The Daily Free Press reported.
Nicolas Robertson, a freshman in the College of Engineering, said that coming from Europe, he had a hard time accepting the drinking culture and laws in the United States.
"The way the [U.S] government [regulates drinking] is completely messed up," he said. "Taking into account the U.S. culture, the university's response might have [been] an appropriate [one]. But if they want to be an international school, I don't think [alcohol enforcement patrols] would be appropriate."
Maxine Moore, a sophomore in the College of Communication, said the undercover component of the alcohol enforcement patrol can be counterproductive.
"There's no point in going undercover if the whole point is to protect students," she said. "From a student perspective, it just comes across like BUPD is trying to break up parties, get people in trouble and police people in a negative way, not keep us safe."
But the challenges BUPD faces on the issue of underage drinking go beyond Commonwealth Avenue. As Molloy said, not all intoxicated students BUPD sent to hospital were drinking on campus — some of them were returning from off-campus locations.
"We do what we can," Molloy said. "A lot of [underage drinking] is in the Allston, Brighton, Brookline neighborhoods, in the parties out there. And those are the hardest things to control because we don't know what is going on inside those houses. So those are the things that really concern us and we have the Boston Police out there to address that stuff."