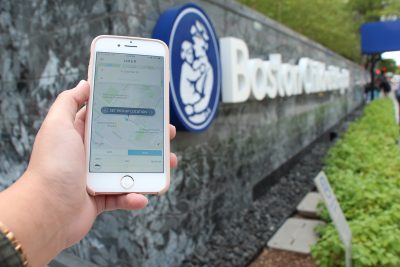 Circulation, a Boston-based startup, launched a program that integrates Uber's application program interface into healthcare systems to provide nonemergency medical transportation for patients, according to a Tuesday press release.
Circulation was designed to improve the health outcomes of 3.6 million Americans who miss medical appointments each year due to problems with transportation, the release stated.
The pilot program is at Boston Children's Hospital, three of Mercy Health System's hospitals in Pennsylvania and Nemours Children's Health System in Delaware. By the end of the year, Circulation will be implemented into health systems in an additional six states, according to the release.
"In contrast to other non-emergency medical transportation options, Circulation is more than a ride. It is a one-stop, centralized portal that customizes rides around patients' healthcare needs and preferences," the press release stated.
John Brownstein, co-founder of Circulation and a healthcare adviser to Uber, said the program was developed to make it easier and more affordable for patients to get to their appointments.
"Over 4.5 million patients a year miss their medical appointments," Brownstein said. "Hospitals and health systems are faced with this issue of no-shows, which is a big cost to the system itself. Circulation is all about trying to bring better ease of transportation to patients, especially sick, elderly, disabled populations to help them get to their appointments."
Brownstein said Circulation is planning on adding more features to the software in hopes of remedying the problem of missed appointments by implementing measures to better communicate with patients.
"We're also working on building it as a tool to help patients get to clinical trials," Brownstein said. "When we know a patient is coming in for their appointment, there are ways in which we can communicate with that patient."
Circulation plans to expand their software even further in the future with the potential addition of a tool that will allow patients to check in for their appointments before they arrive, according to Brownstein.
"There are a lot of different things you can do once you have this technology in place," Brownstein said.
Several Boston residents supported Circulation's efforts to provide patients with a more affordable and efficient transportation method to get to their appointments.
Mary Otoole, 55, of South Boston, said the program could be a great initiative if it is implemented properly.
"Plenty of people, especially the elderly, need help getting to the doctor so it would be wonderful for them," Otoole said. "It would create less of a burden on families and if it is safely done I think it would be wonderful."
Matt Peters, 54, of Roxbury, said he thinks the transportation assistance Circulation will provide could be especially helpful.
"Anything that makes transportation easier, especially taking it out of the hands of people that have other things on their mind, makes their experience better which probably helps their health," Peters said.
Jim Petosa, 62, of Dorchester, said he thinks this new program is a step in the right direction, but there is still more to be done to integrate technology into healthcare systems.
"I think information integration in healthcare is long overdue, not just in terms of accessibility but in terms of basic research," Petosa said. "The technology we have today should connect practitioners to share results in a much more rapid-fire way and I think we're seeing progress with that but I think we could do a lot more."
Petosa also said the success of the new transportation platform depends on the public's ability to navigate technology.
"This will make it easier depending on if people have enough literacy with the technical applications to access it," Petosa said, "but I think just the passage of time is going to take care of that."
A previous version of this article mis-characterized the app's plans to expand its services in the future. The above article reflects the correct changes.