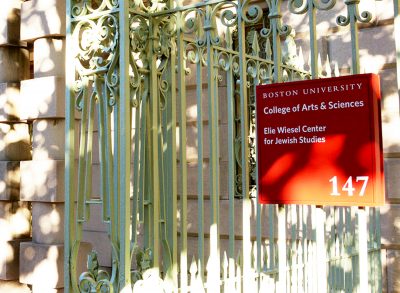 The Boston University Elie Wiesel Center for Jewish Studies expanded its curriculum this semester to include a Holocaust and Genocide Studies minor.
The minor "combines historical background with multidisciplinary exploration of the Holocaust and other genocides through film, literature, law, philosophy, political science, international relations, and religious studies," according to the official proposal submitted last November.
Nancy Harrowitz, a professor of Italian and Jewish studies, proposed the program with her colleague, Simon Payaslian. Harrowitz said the process of establishing the minor began two years ago with a conversation between her and Michael Grodin, a health law, ethics and human rights professor in the School of Public Health.
"We decided to go forward starting this minor in Holocaust and Genocide Studies because it's such a timely topic still today," Harrowitz said. "The frequency of genocide after the Holocaust is really quite alarming, and we felt that it was a good moment to bring together a lot of different faculty strengths in different disciplines and different areas."
The minor arrives at an appropriate time, as renowned Holocaust survivor and BU Professor Emeritus Elie Wiesel passed away in July. Harrowitz said she believes the minor will honor Wiesel's legacy at BU.
"[Wiesel] was so very passionate about social justice, about fighting against prejudice, that this kind of program I think would have pleased him a great deal," Harrowitz said.
Students pursuing a minor in Holocaust and Genocide Studies must complete six courses, including two core courses and four electives, according to department's website.
Harrowitz said BU is one of only a few universities to offer the minor. Eventually, the hope is to see the addition of a major in the field, which would make BU only the second university in the nation to offer an undergraduate degree in Holocaust and Genocide Studies, behind Keene State College, Harrowitz said.
Two students have already declared minors in Holocaust and Genocide Studies, and Harrowitz said she hopes more students will follow in their footsteps.
Dean of the College of Arts and Sciences Ann Cudd said the new minor is a unique program for its focus on the study of horrific injustices throughout history.
"This program is specifically about the question of how the worst possible social conditions can arise, and what can be done to eliminate and rectify them," Cudd said. "We must not … believe that as a species we have evolved to a point where genocide cannot happen again."
Several students said they supported the decision to add the minor — Lily Booker, a junior in CAS, said she previously considered a Jewish Studies minor, but decided not to pursue it. She may now consider a minor in Holocaust and Genocide Studies, Booker said.
"People are very open to talking about the Holocaust, but … I don't think a lot of people necessarily know a lot about all the genocides that have occurred, unless they are a history major or have taken interest in looking more into the world," Booker said.
Thomas Wong, a freshman in CAS, said he applauded the university's decision to expand its curriculum because "history repeats itself, so it's important to study why things like [genocide] happen and whether things like this will happen in the future," he said.
Gabrielle McCann, a senior in CAS, said that while many people know about the Holocaust in general, few understand its deeper implications.
"We know some stuff about it, but not as much as we probably should," McCann said. "And if you don't learn about it, if you don't study about it, what's to say it won't happen again?"