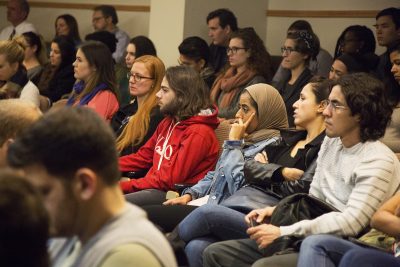 Following Donald Trump's election to the presidency, many international students at Boston University wonder if their future will be impacted by the strong nationalistic rhetoric many say was utilized throughout his campaign.
International students have a large presence on BU's campus. In Fall 2015, 8,452 students — approximately a quarter of the BU student body — enrolled in the university came from foreign countries.
William Grimes, associate dean of the Frederick S. Pardee School of Global Studies, said he expects Trump's administration will bring changes that are evident for immigrants, but international students who came to the nation legally will not be affected.
"I wouldn't be surprised to see some significant tightening of rules on immigration," Grimes said. "But they're not going to have a direct effect on students."
Despite the perceived safety from legal parameters, Grimes said the trend of xenophobia might deter international students from coming to the United States.
"People may worry more about coming into the United States because they've heard that foreigners may not be treated as well," Grimes said. "It's quite possible that students who might have an interest in living in the United States longer term will feel that coming to the United States on a student visa is not going be a ticket to that."
In response to students' potential concern, Grimes said BU will continue to be a safe and accepting environment for international students. But even with these assurances, many international students said they are worried about their place in the changing nation.
Alejandro Beristain, a senior in the College of Communication and secretary of the Mexican Students Association, said the election has changed many international students' perception of the nation.
"Many international students respect the U.S. because it is a nation that promotes diversity and equality," Beristain said. "With Trump's nationalistic rhetoric, international students don't feel as appreciated or welcomed to the U.S. as they used to."
Roshni Shukla, president of the BU International Society, said the election caused much unease and distress, especially in the international community, though she urges international students to remain positive.
"International students should hold their heads high," Shukla, a senior in COM and the School of Hospitality Administration, said. "Those who are in the United States with their F-1, J-1, or M-1 Visa have entered the country legally with the right credentials."
Despite the controversy and unrest after the election, Shukla said international students shouldn't lose hope.
"Despite all the negativity, the U.S. will still be a country of immigrants and one that still provides so many academic and economic opportunities," Shukla said. "Let's just say the United States is a diverse country with a wide range of beliefs and values and those that are international students are not alone."
Patricia Arribas, a junior in COM, is an international student from Spain. She said she came to the United States and BU to learn about herself in an open environment, but now she worries what will be the aftermath of the election.
"Trump's winning made me really sad because it feels like people take politics and the law as a joke," Arribas said. "I don't really worry about [how] Trump's presidency affects me personally just because I probably won't stay in the U.S. after college, but it does make me wonder whether he will make it so much harder for me to get a work visa here in the case I decided to stay."
Julia Bighetto, a freshman in the College of General Studies and an international student from Brazil, said she came to the states in search of better opportunities. However, the election results made her question this.
"I was sure that Clinton would win, but I saw her victory slipping away as I saw more and more states on the TV turning into the Republican color," Bighetto said. "I started thinking about all my friends who are international as well, all those who are here just because they want to study or have a better chance in life; I started thinking if this country was still going to provide the opportunities it provided before."
Though Bighetto said she believes international students may be safe from policies targeting immigrants, she is worried that they are not safe from discrimination.
"I've read already a lot of stories about harassment towards immigrants throughout the country, and I know that even by studying at BU, an amazing and well-known school, we're not safe," Bighetto said. "So students shouldn't be worried, but they have to be cautious."