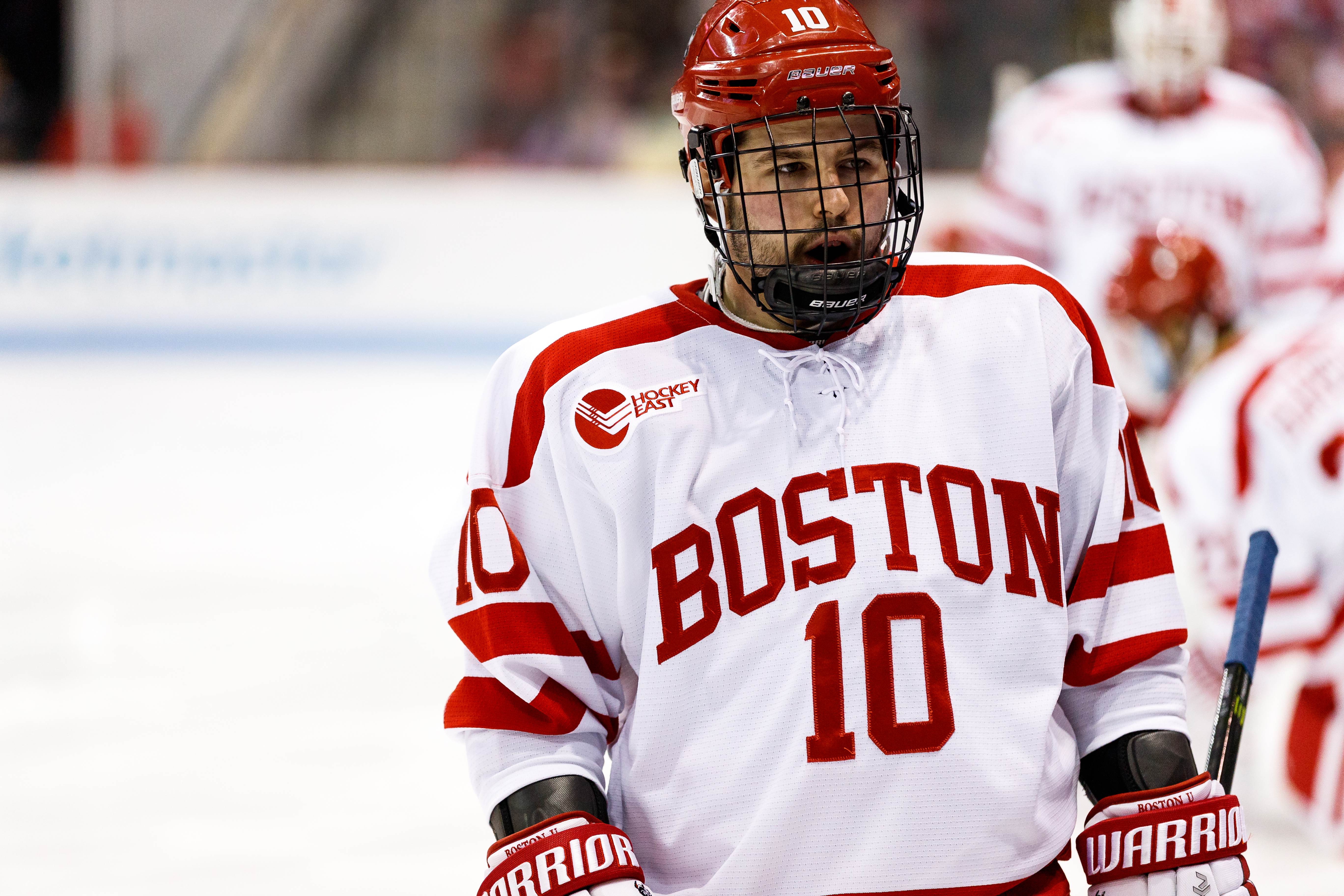 In some ways, Gabriel Chabot sounds like a little kid on Christmas morning when asked about playing on the Boston University men's hockey team.
Back in his junior hockey days – with the USPHL's Portland Jr. Pirates and Rochester Jr. Americans – he'd look into the stands and see 10, 15 people. So when he walked out of the tunnel for the Terriers' first tilt of 2016-17 – a preseason contest with the University of Prince Edward Island – he was awestruck.
"I had the chills for about the first 10 games here," Chabot said, looking up into the Agganis Arena stands. "It was nothing I've ever felt before, like a kid before a big playoff game where you get the chills. For that PEI game I got the shivers and was like, 'Wow, this place is insane.' Every day here is awesome."
Chabot said with a laugh that the "wow factor" has since died down, and that's likely because he's a constant presence in head coach David Quinn's lineup. The freshman from Québec City, Québec often lines up as the fourth line center, and has played in 19 of BU's 21 games so far this season.
Along the way, he's handed out three assists and potted two goals, including his first career goal at the University of Connecticut and an insurance tally in the Frozen Fenway matchup with the University of Massachusetts Amherst.
There's nothing fancy about the freshman's approach, either, as he said he just wants to be a consistent third or fourth liner who earns his team's trust and does the simple things right. Based on Quinn's comments, he's certainly leaving that impression.
"He's got a great energy to him and a great attention to detail," Quinn said. "He's a reliable player and that's what you're looking for – he certainly is reliable."
Meanwhile, senior forward Tommy Kelley, Chabot's linemate and neighbor in the locker room, said a different quality has stood out.
"Gabe's always got a smile on his face, always making me laugh," Kelley said. "When we come to the locker room every day he's always got something nice to say and is upbeat. He's just so positive."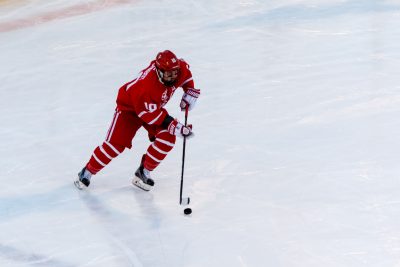 As affable as Chabot is, it wasn't always a guarantee that he'd play for BU. He only committed last spring, as Albie O'Connell, one of the Terriers' assistant coaches, first spoke with him at the USPHL All-Star Game in January 2016.
Conversations then got more serious when BU needed another body in its recruiting class, and, as Quinn put it, "all the stars aligned." Chabot even had several Division 3 offers – from Babson College and Norwich University – but the opportunity to wear the scarlet and white was too enticing to pass up.
Perhaps the most striking part of Chabot, though, is how much he cherishes being a student-athlete at BU. He plans to transfer into the Questrom School of Business next year to pursue a degree in entrepreneurship or finance.
That sort of drive and devotion surfaced in a story Quinn shared this past summer. A handful of BU players were heading down to Cape Cod for the weekend, but Chabot stayed back, wanting to study for an exam he had that Monday. When asked about that decision, the 21-year-old shrugs it off, noting that missing a night out on Cape Cod doesn't really matter in the grand scheme of things.
"School's important to me," Chabot said. "I've seen a lot of my friends stop playing hockey and they didn't really have anywhere to go. I'm fortunate enough to be here at a very good school and have an opportunity in hockey or a career after it. That means a lot to me."
For Quinn, that story speaks volumes to the type of person Chabot is.
"He's just a guy that's always doing the right thing," Quinn said. "It's maturity. It's nice to have people like that in the program."
Even though Chabot's character draws rave reviews, the "athlete" part has long been in his blood.
His father, Frédéric, played nearly 20 seasons professionally as a goaltender, including stints in the NHL, AHL and now-defunct IHL. From that lifestyle, Chabot travelled the world – including Frédéric's five-year stint in European leagues – to watch his dad play.
While hockey was a constant throughout Chabot's childhood, it's Frédéric's time with Austria's Vienna Capitals that sticks out the most.
"When I was getting a bit older, probably 10, maybe 12, my dad won the championship with Vienna in the European league," Chabot recalled. "I was at every playoff home game and then they won the whole thing. Everybody stormed the ice. The fans weren't supposed to get on the ice and they found a way on the ice, it was insane."
As deeply rooted as Chabot's hockey past is, it's hard not to wonder what the future has in store. He's part of a 10-member freshman class that features six players – forwards Clayton Keller, Kieffer Bellows and Patrick Harper, defenseman Chad Krys and Dante Fabbro and goaltender Jake Oettinger – who could realistically play in the NHL one day.
However, Chabot said he isn't sure if professional hockey will come about after he graduates. In fact, he still remembers coming into the program this past summer, glancing at BU's roster and saying, "'Wow, this is absurd the amount of draft picks we have.'"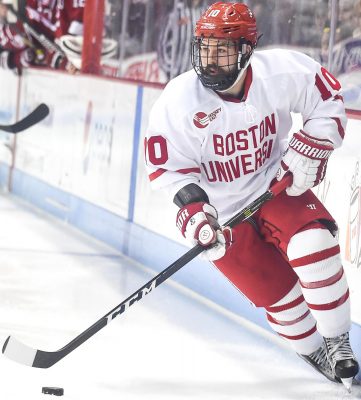 His expectations, in other words, are a bit different than those of his classmates. From that, Chabot stressed he wants his role to expand every year, whether that be on the ice or as a leader. While just one opinion, Kelly said he could envision either unfolding.
"Those are definitely things that I see in his future," Kelley said. "In this program there's a lot of opportunities, especially since Coach Quinn always rewards the guys who are working hard, doing the right thing. Gabe's definitely one of those guys, so it'll be exciting to see him progress."
That last part from Kelley is something Chabot harped on too, as he said he's merely taking it one day at a time. But, if all goes to plan, the BU hockey faithful ought to grow accustomed to seeing No. 10 working his tail off for years to come.
"That's the thing – I want to be here for the long run," Chabot said. "Some guys have the opportunity to leave after a year or two, but they don't get to be a part of this school, the fans, the program. This is amazing. I want to be here as long as I can. This is absurd the way we get treated, they're so good to us."