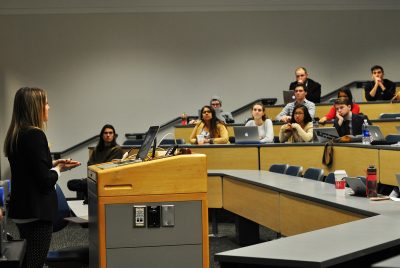 The Boston University Student Government unanimously approved a budget proposal Monday night to allocate funds biannually to its Mental Health Committee.
The Mental Health Committee, a standing committee within SG that organizes advocacy and conversations about mental health, will receive $5,000 a year under the proposal.
Committee Chair Ramya Ravindrababu said she hopes the money will fund different activities and initiatives for mental health groups throughout the semester.
"We're really looking forward to sponsoring the "Before I Die" wall that Actively Moving Forward does," Ravindrababu, a senior in the College of Arts and Sciences, said after the meeting. "I know Active Minds has a conference that they like getting out to that would connect them to other chapters of Active Minds. The Out of Darkness walk is also really important for the BU community."
Money will be divvied up among five campus groups: Active Minds, Actively Moving Forward, Mind and Brain Society, Student Health Ambassadors and Speak Up, Ravindrababu said during the meeting.
Money will be distributed at the beginning of each semester, she said.
The committee will be required to submit a financial proposal to SG each semester for approval. Starting this semester, the expenditure will account for one-sixth of SG's remaining budget this year.
Ravindrababu said the committee established a university-wide bereavement policy earlier this year. This initiative came from Actively Moving Forward, one of the mental health groups on campus.
"If you have an immediate family member who passes away, you are guaranteed five academic days of leave from school without having to talk to any of your professors," Ravindrababu said of the policy during the meeting.
In addition to the budget allocation, senators also confirmed the appointments of seven members to cabinet positions and the appointment of three judicial commissioners.
SG Executive Vice President SaraAnn Kurkul apologizes on behalf of the executive board for not completing confirmations last semester.
"We would like to deeply apologize for not fulfilling to meet the highest standards of student government and not going through with the confirmation process last semester," Kurkul, a junior in the College of Communication, said in her presidential address.
Kurkul stood in for SG Executive President Jake Brewer, who could not immediately be reached for comment.
Senate Chair Dan Collins said the passage of this proposal is a positive step for student government.
"This sets a good precedent that we're earmarking a large portion of our budget, which is already very large, to standing committees," Collins said after the meeting. "I hope in the near future we can get funds to the other committees, especially Academic Affairs."
Several senators spoke positively about the budget proposal and the committee.
School of Education Sen. Noelle Ballantine said it's important for SG to fund the Mental Health Committee because of its lack of funding from other sources.
"It's a really important committee group," said Ballantine, a freshman in SED. "It is our job as Senate and BU Student Government to help support those groups [within the committee] that deserve the funding."
Dan Collins, a College of Fine Arts Senator, said the continuous budget appropriation will lead to increased efficiency for the Mental Health Committee.
"It seemed like a logical move because it doesn't make sense for them to appeal to senate for every single budget item," Collins, a sophomore, said. "It makes sense for them to have some sort of acting budget, so that at least they have a starting point [each semester]."
Hillel Sen. Margo Blank said the committee is essential to eliminating the stigma surrounding mental health on campus.
"[The Mental Health Committee] serves the entire school," said Blank, a sophomore in CAS. "It's really great that students here are helping lift everyone up because a lot of people over-exert themselves and don't even know it … I think [Ravindrababu] is doing important work."