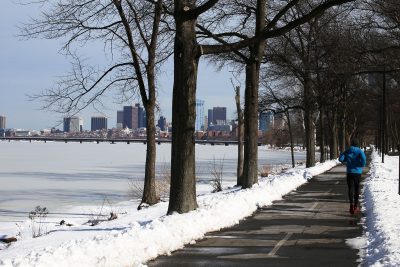 With several snowstorms over the past week, and the cancellation of classes on Thursday, Boston University remains confident that it is equipped to deal with severe weather and able to ensure the safety of its community, several university officials said.
BU was struck Thursday by a storm that accumulated approximately 10 inches of snow, according to the National Weather Service. In response, BU issued a state of emergency and closed the Charles River campus.
When Boston received another four inches of snow, the university remained open.
William Walter, assistant vice president for operations and services at BU, wrote in an email that BU's facilities are prepared for this type of weather. The university operates approximately 20 plow trucks, more than 100 snow blowers and two large snow melters.
"Work continues even after the snow stops," Walter wrote. "They spread ice-melt chemicals on our stairs and walkways once the initial clean-up has been completed."
BU spokesperson Colin Riley said several factors determine whether the university will cancel classes, including timing of the storm, amount and severity of precipitation and road conditions.
"We are predisposed to hold classes because most of our students are in or around campus," Riley said.
When it comes to the university's decision not to cancel school Monday, Riley said BU was able to handle that amount of snow. He said BU's staff stays ahead of the storm by prioritizing the clearing of parking lots and sidewalks.
"It's just that it was manageable when it occurred," Riley said. "It was able to be cleared by class time."
Riley added that weather is not the only thing to consider — loss of class time also plays a role in the decision to cancel school.
"Class time is most important," Riley said. "It's only in extraordinary circumstances in which we cancel them."
Sunday night, as snow started falling, students voiced their concerns about BU's decision not to cancel classes.
Kristin Orsi, a freshman in the School of Education, created a satirical event on Facebook called "Protest BU's Decision To Not Have a Snow Day," calling on students to stay in their rooms on Monday. Although Orsi did go to her classes, she said she was concerned for students with disabilities dealing with sidewalks covered in slush and ice.
"To imagine students with disabilities to get across campus is terrible, and I think BU should have thought out their decision more," Orsi said. "I think that if it's dangerous for students who live on campus to get to class, then there shouldn't be class."
Meanwhile, BU Student Government posted a Google form on its Facebook page to compile student responses regarding the university's decision, which SG delivered to the administration.
The Google form read, "We believe it is important for administration to know how students are reacting to this decision."
SG Vice President of Internal Affairs Jane Dimnwaobi said she thought of the idea Sunday night and made the form after noticing many of her peers talking about weather conditions that might prevent them from attending classes.
"Our university looks out for the well-being of students, but, in the case of snow days, it worries me that when students are in panic, they remain silent," said Dimnwaobi, a junior in the Frederick S. Pardee School of Global Studies.
The form received more than 1,000 responses, Dimnwaobi said. Some of the responses from students were posted on the page, expressing concerns about icy road conditions.
"Our goal was not so students should make the executive decision to close BU, but that administration would respond to a massive wave of worry among students," Dimnwaobi said.
The next afternoon, in an email to SG, Dean of Students Kenneth Elmore and President Robert Brown responded to the complaints voiced by students.
"[BU's Facilities Management and Planning staff] has an excellent record of maintaining access during inclement weather," Brown wrote.
Brown concluded the email by stating that it is never easy to decide whether the university should close because of the snow.
"We have to make difficult decisions about when conditions make cancellation a necessity," Brown wrote.
Several students said it is a more complex issue than the petition probably considers.
Moyra Richards, a junior in the College of Arts and Sciences, said there are many reasons BU might decide to cancel classes.
"I think the main concerns [for canceling] are health, getting sick and getting endangered in serious weather," Richards said.
Ana-Lucia Dellien, a senior in CAS and the College of Communication, said she slipped while walking to class on Monday.
"I think if they knew they weren't going to cancel school, then maybe they should have anticipated cleaning the streets faster or better," Dellien said.