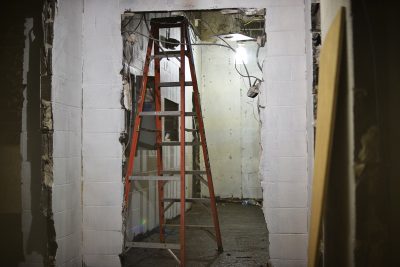 Boston University's College of Communication began reconstructing WTBU, its student-run radio station, and nearby classrooms on Monday, after a fire damaged the area last spring.
The reconstruction will continue through the semester and into the summer, according to a memo sent out to COM students by Technical Operations Manager Jake Kassen. The memo noted that loud noise will be coming from the side and rear of the building for a few days, after which all construction will be done overnight.
Kassen said in a phone interview that several rooms are being upgraded, including a classroom, WTBU's on-air and production studios, two WTBU offices and two specialty editing rooms for advanced film and television students.
"All the spaces that were lost [in the fire] are being replaced," Kassen said. "The new [spaces] will be bigger, better. Everything will be as modern as possible. In no way are we walking back anything that was lost. The studio and finishing rooms are being built to modern, professional standards. It was a professional space, but it was a professional space of the early 1990s. Now it's a professional space of 2017."
Kassen said, in part because of regulations, everything will be larger than it was before.
"Previously the space was not handicap-accessible," Kassen said. "So in order to accommodate ramps and everything because the floors have to be raised for acoustic isolation, the studio itself is going to be a little bit larger and expanded out into the hallway. The hallway itself is going to be shifted."
During the construction, certain parts of the COM building will be closed, including the edit lab in Room 301A. The lab will remain open during class hours (9:00 a.m. to 9:20 p.m.) but will be closed during the weekends and overnight. The side stairwell from the second to third floor and the adjacent third floor hallway will also be closed except for emergency exits.
Kassen could not speak to how the reconstruction is being funded, but said the construction will not affect students' tuition.
"BU does have an insurance policy," Kassen said. "Much like if your house burned down, you'd have the insurance company pay for it."
COM Technology Director Brad Fernandes, who is overseeing the project, said there were two primary reasons the reconstruction started almost one year after the fire.
"First, you have to redesign the space," Fernandes said. "The space was originally designed in the '50s. And because it was built in the '50s, it was grandfathered in. So if you changed the space, you'd have to bring it up to code."
Fernandes said insurance was another factor in the delay on reconstruction.
"If you've ever had an issue with your car with insurance, you know it's not an overnight process," Fernandes said. "There is a long process that we have to go through to prove what was in the studio, how it was set up. We basically wanted to make sure we were getting the exact same sound rating that was there before."
Kyle Davi, a junior in COM and general manager of WTBU, said the fire completely changed how WTBU runs and feels.
"We no longer have our own space for students to relax, hang out and enjoy each other's company away from the worries of schoolwork and life," Davi said. "WTBU was a home away from home for students, and when we lost our studio, it really felt like we lost part of what made WTBU so special."
Davi said the entire experience has been "like being on 'Home Improvement.'"
"Even though we've had this terrible tragedy happen and we've pushed through the troubling times, we are finally getting that brand new studio that WTBU has always dreamed of," Davi said. "And I can't thank the COM tech department, and especially Jake Kassen, enough. If it wasn't for their tireless dedication to WTBU and pushing to get this new studio done as soon as possible, we wouldn't be having this conversation right now."
Even though WTBU now has to work out of a temporary studio in the basement of the COM building, COM sophomore Adrian Thomas, the director of talk show "BU in the Morning," said he was inspired by WTBU's resilience.
"Obviously the fire was really sad, but we're just really fortunate now to have a new space that's going to be brand new, state-of-the-art," Thomas said. "It's going to be an area where we can start creating a legacy."
For Elina Kent, a sophomore in the College of Arts and Sciences and the music director at WTBU, the fire had a more personal effect.
"The fire actually happened 20 minutes after I left my own show," Kent said. "The people I had left in the studio were the ones caught in it, and it was pretty terrifying. It caused a huge setback because everything was gone."