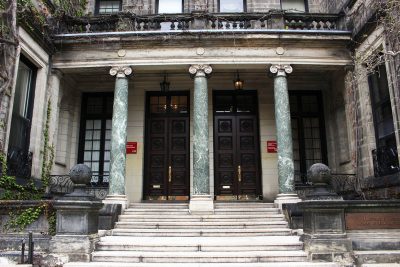 Boston University's Frederick S. Pardee School of Global Studies is introducing three new graduate programs which will formally be implemented this fall.
Pardee Dean Adil Najam said the purpose of these programs are to equip students with a degree best suitable for their careers.
The new Master of Arts in International Affairs program offers five specialization options. The Master of Arts in Global Policy degree, which is more policy-oriented, offers three specializations. The one-year graduate program, the Mid-Career Master of Arts in International Relations, is an advanced program for those with experience in the field, according to Najam.
Najam said these changes are more of a refinement and consolidation of the previous nine programs than a creation of three new programs.
"We packaged it in a way so that who wants to pursue those can still pursue them within those three big blocks of degrees," Najam said. "We wanted to improve student experience at Pardee, so you have a cohort of students doing similar stuff and are support-based."
Pardee Associate Dean of Academic Affairs William Grimes said changes like these are important, particularly in response to problems graduates experience.
"It's not just a question of what we're teaching, but also what type of skills do our students need, what types of jobs they will be going into and what will give them a comparative advantage," Grimes said.
Najam added that the new program reflects the field's international aspect.
"Our existing international and communication program exists," Najam said. "But it becomes a new package with international affairs and a specialization in communication."
However, the new system maintains some programs, including the joint degrees with the School of Law and the Questrom School of Business, as well as the Latin American Studies program.
Najam said these changes are important because Pardee is a new professional school, and this shows the school listens to its students.
Najam said Pardee looked at other top schools across the country to assess what works best while redesigning the programs.
"I hope [these changes] say we want to be a leading school in international affairs," Najam said.
Pardee will also introduce an accelerated five-year bachelor's and master's program in international relations in the fall for undergraduate students, Grimes said.
"This way [students] are able to finish more quickly and come out with a master's program, which is equivalent to what all of our students have," Grimes said. "They come out with less debt and are able to dive straight into their careers."
Several Pardee students said they support the new changes to the graduate programs.
Sophomore Dominique Luten said she finds the accelerated five-year master's program particularly appealing to employers.
"You could get the most out of your education that way," Luten said. "Since more and more employers want you to have a MA, I think it will attract more people to BU."
Freshman Samantha Harpool said she is excited about the accelerated program.
"It seems like a very cool way to further studies that you do in your undergrad years," Harpool said. "Also, how amazing would it be to graduate from a master's program a year early?"
Sophomore Sonya Ajani said she thinks the new programs are helpful for those interested in pursuing a career in the international relations field.
"This change demonstrates that the new Pardee School is fully capable of competing against other schools in the area," Ajani said.
Ajani said she thinks the three new graduate programs could also be successful despite preventing more robust curricula.
"I do believe that having three programs with many concentrations [provides] ample room to develop and grow into a stellar program," Ajani said. "I think that if the programs are easier for admins to manage, [the administrators can] make sure that the concentrations are flexible upon interest."