[mediagrid cat="41081″]
By Alyssa Meyers and Anna Whitelaw
Over 50 artists from practically every music category came together for an epic three-day festival at Randall's Island Park in New York. Governors Ball Music Festival, now in its seventh year, featured popular and up-and-coming artists, ranging from Lorde to Wu-Tang Clan to Cage the Elephant.
Food vendors, Instagram-worthy backdrops and balloons soaring through the sky added to the festival's atmosphere. Several widely-popular artists made this lineup memorable, and talented newcomers made their festival debut.
FRIDAY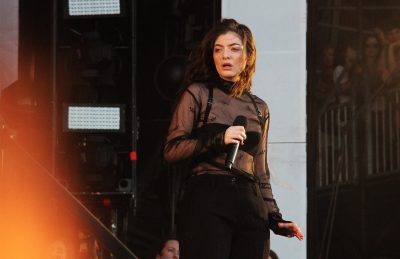 Judah & the Lion kicks off Governors Ball with high energy
Judah & the Lion, a relatively new band in comparison to some of the other Governors Ball performers, proved to be a charismatic and talented act despite the fact that they were less well-known than other artists at the festival. The four-piece alternative band put on an animated performance, singing lively and upbeat songs primarily from their newest album, "Folk Hop N' Roll."
Lead singer Judah Akers dominated the stage, leading the rest of the band in a lighthearted, choreographed dance to T-Pain's "Booty Wurk (One Cheek At a Time)" halfway through their set. The band also performed a cover of The Killers' "Mr. Brightside" in an effort to engage audience members who were less familiar with their original songs. Regardless of their claims that the audience might not know the lyrics to their songs, when Judah & the Lion closed with hit single "Take It All Back," they were met with audience participation and roaring applause.
Kehlani appeals to fans, fails to reach a larger audience
Despite being scheduled for earlier in the afternoon, Kehlani brought one of the biggest crowds to the main stage. A large part of the audience sang along with her songs of female empowerment and women staying strong in relationships, but for those who weren't familiar, her aesthetic was hard to appreciate. As a single performer, Kehlani lacked the stage presence to make up for the emptiness surrounding her. Two background dancers added to her act, but were not enough to create a truly energetic performance.
Kehlani strutted the stage in a wine-colored, leather jumpsuit despite the heat. Her following certainly made the effort to support her, but it was difficult for those less dedicated to find the passion obviously felt by others in the crowd. She further displayed her unpopularity when the crowd all but disappeared once Bleachers began to prepare for their upcoming performance.
Bleachers delivers a spectacular set
Bleachers brought a mix of dedicated fans and those who were less familiar with their work. The band released their new album earlier that day and performed some of those songs at the festival. These newer hits were interspersed with the older, more well-known songs. Both "Rollercoaster" and "I Wanna Get Better" elicited cheers, jumps and fist pumps from the crowd. The audience recited almost every word as lead singer Jack Antonoff sang passionately in his New York Mets tank top, cuffed jeans and trendy sneakers.
It was a loveable, quirky performance that was certainly one of the best of the weekend. As Antonoff, a past member of Fun., introduced each member of the three-year-old band, it was clear the group was thrilled to be on stage able to share their music, and the crowd reciprocated that energy.
Whang serves as time-waster before Lorde performance
Nancy Whang began her set with little fanfare. Known for her work with the band LCD Soundsystem, Whang was slated to perform her set on the main stage in between Bleachers and Lorde as a "Special Guest." Whang came off as more of a space-filler than anything else.
The crowd was unfamiliar with her work, and as she remained behind the turntable on stage right for her whole set, the audience was unengaged and chatted throughout most of her performance. It was clear Whang's performance was simply intended to give festival-goers, who were waiting for Lorde, something to listen to in the meantime.
Lorde exceeds expectations with artistic performance  
Lorde walked onto the main stage in a white veil on Friday night, setting the scene for a captivating performance. Often during her hour and 15 minute set, the 20-year-old smiled and thanked the crowd for their noticeable enthusiasm. Her dance moves, which she described as "witch-like," were unique and purely Lorde. Her body jerked and her arms flailed while her notoriously curly hair could be seen flying about from even the back of the crowd.
Dancers would enter and leave the box depending on each song and created a narrative with their body language that matched Lorde's artful lyrics. The combination was devastatingly beautiful to witness. The New Zealand native continued to engage her audience by bringing onto the stage Jack Antonoff. The pair sang "Hang With Me" in an emotional tribute to Robyn, who helped inspire Lorde's latest album.  
SATURDAY
Wu-Tang Clan pops eardrums, champagne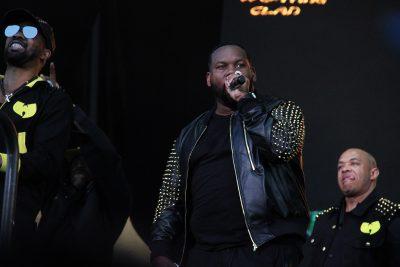 Wu-Tang Clan, a Staten Island-based hip-hop group that's been recording award-winning albums for over 20 years, proved their talent and seniority in a performance Saturday at dusk. The band attracted older, long-time fans as well as a younger crowd. The Wu-Tang Clan's loyal followers chanted "Wu-Tang" several times throughout the performance, forming the letter "W" with their hands as they sang along.
The nine members of the group entered the stage in waves, each bringing with them a confident and relaxed stage presence that can only come from years of experience. They sang crowd-favorite "Protect Ya Neck" a capella and interacted with the audience throughout their set without alienating those unfamiliar with their music.
Method Man, one of the members, was greeted with wild applause when he climbed over the barricade between the stage and the audience to crowd surf, while the other vocalists on stage threw used towels and water bottles to adoring fans. Their performance also featured several bottles of champagne spraying into the crowd, which surely didn't please the clean-up crews, but only served to encourage the fans' infectious energy.
Phoenix brings Saturday night to an end with a bang
The second day of the festival cumulated with a spectacular show by Phoenix. The alternative rock band was highly popular in the 2000s but still managed to draw a huge crowd to their late-night act. A wall of mirrors on the stage tilted to face the crowd as Phoenix belted out classic hits and new material.
The band opened with single "Ti Amo," which is also the name of their upcoming album. To the crowd's delight they performed "J-Boy," another single from the highly anticipated album. The unique stage setup differentiated Phoenix's performance from the others of the weekend. The mirrors only intensified the spectacular light show that accompanied most songs in a truly dazzling display of colors. "Lisztomania" and "1901" caused the crowd to jump off their feet as lead singer Thomas Mars brought palpable energy to the stage.
Mars closed the show by running to the crowd, slapping the hands of fans out in front as he made his way down the aisle. Fans slowly cleared out, eyes still glued to Mars, as the night ended.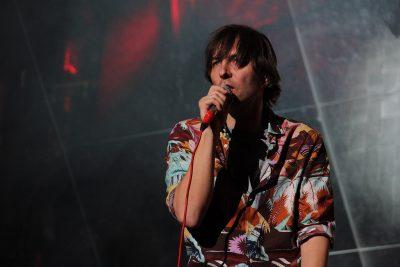 SUNDAY
Royal Blood casts light on a cloudy day
Two-piece British rock band Royal Blood claimed their time in the spotlight amidst clouds on a rainy Sunday afternoon. Royal Blood opened with their 2016 single "Where Are You Now?" immediately followed up with "Lights Out," a song from their upcoming album "How Did We Get So Dark?"
The band, although not as wildly popular as other Sunday performers Logic and Wiz Khalifa, appealed to the diverse crowd that showed up. Royal Blood's music and stage presence were simple but enjoyable, featuring clear and meaningful lyrics accompanied by a guitar and drums.
While the duo didn't dance in an elevated box like Lorde or pop champagne like Wu-Tang Clan, their no-frills performance was an enjoyable way to break up the monotony of the several hard rock groups featured in Sunday's lineup.
Franz Ferdinand rocks the stage — the band, not the deceased ruler of Austria and arguable cause of WWI
Franz Ferdinand, the punk rock band straight out of Scotland, brought a huge audience to Governors Ball's smallest stage on Sunday afternoon. The slightly older band had a slightly older crowd, but that was to be expected on a day that also headlined the 1990 metal band Tool. Franz Ferdinand was another act that rounded up the throwback bands on the third and final day of the music festival.
Even younger audience members sang along to "No You Girls," yet the set list as a whole was lacking. Several notably popular hits were absent the first half hour of the hour-long set, pushed back in favor of newer and lesser known songs. It was disappointing for fans expecting to hear beloved lyrics and were instead met with unknown material. The audience began clearing out earlier than expected, as fan favorite Cage the Elephant was set to start at the same time as Franz Ferdinand's closing song.
Cage the Elephant does not include actual caged elephant as name promises
Although Cage the Elephant was not awarded a closing spot in Sunday's lineup, they were certainly deserving of one. Lead singer Matt Shultz brought forth an enigmatic personality that even die-hard Tool fans had to appreciate. The crowd undeniably included people who showed up just to see Tool perform next, but everyone was entranced by Cage the Elephant when they performed hits such as "Cigarette Daydreams" and "Come a Little Closer."
When Shultz held out the microphone for audience members to sing the next line to "Ain't No Rest for the Wicked," he was not disappointed by their reaction. His dance moves and obvious passion for the music continued to encourage fans to sing along. Even though Shultz ran back and forth across the stage throughout the band's set, his enthusiasm never wavered, and he closed by crowd surfing further back into the audience than any performer before him.