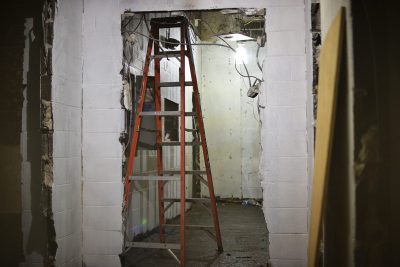 The new studio for Boston University's student-run radio station WTBU is set to open early this coming semester after the radio station's studio sustained considerable damages from a fire last March, the station's staff advisor Anne Donohue said.
Post-fire reconstruction has been in the works since WTBU's temporary relocation from the third floor of the College of Communication building to the basement. COM Dean Thomas Fiedler wrote in an email that reconstruction costs, which totaled $1.2 million, account not only for reparations but cutting-edge upgrades as well. BU's insurance covered the costs, he added.
Donohue, a journalism professor at BU, said she anticipates the new studio will be a great place for students.
"It's going to provide a lot more opportunities for students and different kinds of production and collaboration," Donohue said.
The studio will include ample performance space for musicians — both students and local bands — to play live. The former studio was not conducive for having live performances due to space constraints, Donohue said.
The new facility also ensures better sound acoustics and upgraded technology for various recording equipment, Donohue said, in addition to an open space for student DJs and interns to relax before and after shows.
"It is going to be a state-of-the-art studio, which is pretty rare for a college radio station," Donohue said.
WTBU's general manager Kyle Davi said he is looking forward to the bigger space as it will accommodate the WTBU offices and more DJs.
"Now we're going to have a space where DJs come and really hang out and get away from their stresses from college and have two hours for their shows," the COM senior said.
Davi said the new space was financially feasible due to the "amazing outpour of support from BU's large alumni network," including former WTBU members who offered to replace equipment and donate albums.
Caroline Vigna, a junior in the College of Arts and Sciences, said she has been part of the station since her freshman year. She will be one of many members moving to the new studio in the fall.
"I am looking forward to having an open space that feels like a studio and not the basement," Vigna said. "Having this new space will legitimize WTBU in the BU community and grant us a bigger presence on campus."
With reconstruction nearing completion, Donohue said she's feeling relief that the students that work at the station will have an improved place to work.
"We suffered a lot of pain and anxiety over this," Donohue said. "The result is improvement and just having a place for students do what they love to do."