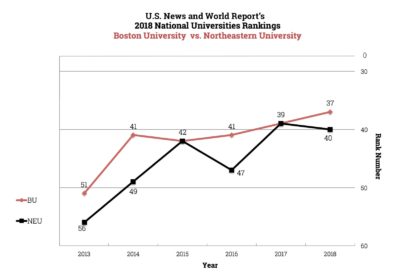 Boston University has been ranked the 37th best college in the nation according to the 2018 U.S. News and World Report's Best National University ranking — a two-spot increase from last year and the university's all-time highest position.
Eric Brooks, a senior data analyst at USNWR, said the rankings are based on 15 indicators that measure academic quality.
"We look at the selectivity of the admissions process, the school's ability to support their students with things like small class sizes, hiring credentials of faculty," Brooks said. "We look at their ability to retain students and graduate them within six years, the academic reputation of the schools and we look at when students graduate, are they satisfied enough with their experience that they donated as alumni."
Brooks said BU has been able to reach the number 37 position because the university has been improving over time in a number of aspects.
"There have been small methodology changes from year to year, but the reason that Boston University has improved is it's been improving over time," Brooks said. "A decade ago in the 2009 ranking, it was ranked 60 and it's been going into the 50s and 40s, and now the last couple years it's been in the 30s."
One of the areas that contributed to BU's increased ranking is its ability to retain and graduate students at a higher rate, Brooks said.
"The most recent six-year graduation rate for this year's ranking was 87 percent," Brooks said. "That's one of the highest weighted factors, graduation rates, because going to the school isn't worth as much if you don't get the degree."
Katherine Cornetta, the assistant to the dean of students, said the university has increased its alumni outreach, which might have contributed to its higher ranking.
"We've done a great job outreaching to alumni, our programming for alumni had an increase and just in our office we see our alumni reaching out a lot more than they did a decade ago so that probably has a fair amount to do with it," Cornetta said.
The "breadth and depth" of the academic programs at BU contribute to the vibrant campus community that is available to students when they come to BU, Cornetta said.
"We have such an incredible student body that's so talented," Cornetta added, "so that definitely plays into how we're perceived as a university."
Several students said while they were impressed with BU's new position on the list, rankings should not be the only factor that high school students take into account during their college search.
Julia Bighetto, a sophomore in the College of General Studies, said that while 37 is a high ranking, she did not take national rankings into consideration when she decided to attend BU.
"I don't really care a lot about the number, but 37 is a very high ranking in my opinion," Bighetto said. "I wasn't looking to go to the best place, I was just trying to find the place that fits me the best."
Connor Dedrick, a freshman in the Questrom School of Business, also said that finding the program that is right for you should be more important than the ranking of a university.
"Sometimes rankings get overblown," Dedrick said. "You should go where the program is right for you and where you feel you fit in."
Dedrick also said he thinks BU's new ranking shows that "we have amazing students, faculty, facilities, and that we're continually investing in those things."
Lexis Eisenson, a CAS senior, said she was happy to hear that BU had moved up in the rankings, but a student's academic performance reveals more about the person than the national standing of the university he or she attends.
"That's a great accomplishment for us as a school as a whole," Eisenson said. "I don't think undergraduate rankings are that important, I think how you do at the school is more important."
CORRECTION: A previous version of this article said USNWR used the "fixed year graduation rate" instead of the "six-year graduation rate." The current version reflects this change.