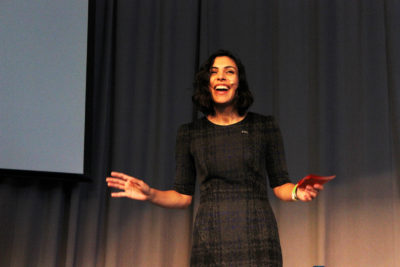 Last summer, Silicon Valley was hot with controversy: Uber's sexual harassment scandal, the sexist Google memo and numerous sexual harassment lawsuits filed against tech companies.
On Sunday, [email protected] kicked off the Forbes Under 30 Summit with a day of programming titled, "[email protected] Under 30: Closing the Tech Gap." It's an event that comes at a crucial time for women in the technology field, said Ruthie Ackerman, deputy editor of [email protected] and Boston University College of Arts and Sciences graduate.
"It's such a critical moment because we are seeing so much attention being paid to women in the tech industry, not only Silicon Valley but across the board," Ackerman told The Daily Free Press. "Enough things have happened — sexual harassment [and] people behaving badly — that there's actually media attention for the first time on the issue of the gender gap and the pay gap in tech."
Bozoma Saint John, the recently appointed chief brand officer of Uber, began the day's presentations with her keynote, "Making Bold Moves."
"It's Sunday morning … and I grew up in church," Saint John said. "So let's just pretend for today. I am your preacher, with my boobs out, which is so inappropriate but totally fine!"
During her keynote, Saint John recollected her lifelong experience of standing out, from her childhood to working in Silicon Valley.
"It's no secret that there's a lack of diversity in Silicon Valley. I mean, there are not a lot of people wearing glittery skirts around Silicon Valley," Saint John said, gesturing to her glittery pink frock with a laugh. "But that, to me, is actually quite beautiful."
Reflecting on those experiences, Saint John said authenticity is key to making a genuine impact.
"Bring your whole self to work," Saint John said. "It is the reason I am able to make a difference, because I'm not trying to copy anything else."
In later panels, many speakers discussed the value of authenticity in the face of scrutiny.
Asmau Ahmed, founder of fashion startup Plum Perfect, revealed that she used to hide her gender when arranging meetings with investors. She said it's something she regrets.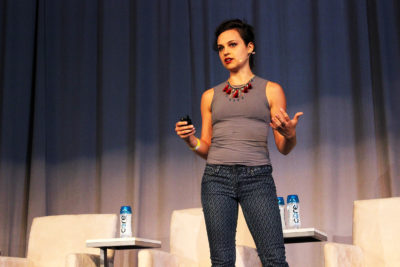 "I'm not proud of it," Ahmed said during her panel. "I would make my resume gender neutral, and, from my name, most people thought I was a guy. I took my photo out of my LinkedIn profile, not my proudest moment."
Ahmed said her strategy worked initially but ultimately backfired.
"I got more meetings," Ahmed said. "But eventually, when I got seen, it all fell through. So, I stopped that … [and] I got less meetings, but I got meetings with people who wanted to meet with me."
Much of the day focused on being true to oneself in male-dominated spaces, like the technology industry. Some panelists contemplated inclusivity in women-centric environments.
"Especially when it comes to 'women's networks,' the white men of women's networks are white women," Natalia Oberti Noguera, founder and CEO of Pipeline Angels, told The Daily Free Press.
Pipeline Angels creates capital for women and feminine non-binary social entrepreneurs while prioritizing intersectionality and diversity, according to Oberti Noguera.
"[Privilege] can be fluid," Oberti Noguera said. "Depending on the room we're in, our role and our place in that room will change."
Alexa Little, who attended the event, serves as the executive director of 7000 Languages, a nonprofit working to create free language-learning software for endangered languages. Little said she hoped to make connections that could expand her organization's resources and capabilities.
"I'm not far from Boston," Little said. "I've been trying to network with other people who are doing innovative things, to try and spread our resources and help people, if it's possible."
Little said her gender has impacted her experience working in tech.
"It's tricky for me sometimes to know where to go with advice," Little said. "People give me advice, and I just wonder, 'Will this be interpreted the same way from a woman as it would be from a man?'"