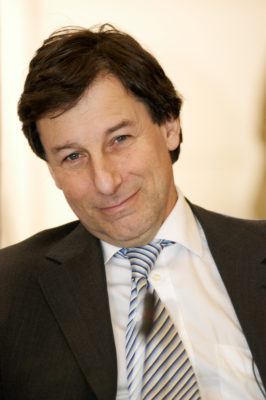 The New England Council hosted a luncheon Thursday on the economic relationships between New England and Nordic countries to discuss what factors have made Nordic economies so successful.
Sixty-five people listened to a panel of Nordic ambassadors and representatives from Denmark, Finland, Sweden, Norway and Iceland at the luncheon, as they explain the benefits of green economics and international trade that they have embraced.
Jim Brett, president and CEO of the New England Council, said the council takes on the role of forging international relationships with foreign ambassadors and taking the opportunity to learn from them.
"We also acknowledge that we live in a very global economy and many of our members' relationships between the United States and other nations across the globe are critical to their businesses," Brett said. "[The] United States is fortunate to have excellent relationships with each of these northern European nations, each of whom is both an ally and an important trade partner."
Brett said the Nordic countries share a similar mindset as the United States and many New England companies and have put these mindsets to work in government and in successful businesses alike.
"Although Norway, Sweden and Denmark are kingdoms, they all share with the United States the common values of democracy [and] human rights," Brett said. "Their society is based not on discrimination but equality and inclusion regardless of ethnicity, sexual orientation [or] religious affiliation."
Lars Gert Lose, ambassador of Denmark to the United States, said the ambassadors have been touring American cities to instill Nordic corporate values after the publication of the book "Nordic Ways" by András Simonyi publicized these values.
"The Nordic countries are perhaps the most transatlantic counties in Europe," Lose said. "Certainly, a long standing historic helper to the U.S. and a steadfast ally no matter what kind of conflicts we encounter around the world. We have a strong relationship and cooperation in all areas, security, counter-terrorism … and especially economic operation which is why we are talking to you today."
Lose compared the economies of New England and Denmark to explain why the businesses in both places have maintained close relationships.
"Boston and New England have such shared similarities with the Nordic countries," Lose said. "You are on the very edge of innovation, venture capital [and] leadership. You have much emphasis on energy security and sustainability which is a big thing for us."
Lose said partnership with New England will lead to mutual success and sustainability which will yield a global impact.
"We see this region, the New England region, as one of the most important areas for stronger economic cooperation in the future," Lose said. "I have no doubt there is much great potential for corporate relationship between the New England region and the Nordic countries when it comes to energy in the future."
Lose said he highly suggests wind energy because of New England's coastal weather benefits. Denmark has profited from these wind farms because they have led to inexpensive heating and renewable energy.
"Today more than 60 percent of all households and districts in Denmark are connected to a district heating grid," Lose said. "It's very sustainable, it's very cost-efficient and it's very safe. In fact, the district heating is the back-door energy system that will allow our capital, Copenhagen, to be 100 percent carbon-neutral by 2025."
Several attendees said green economies are the way of the future and good to implement starting now.
Jack Davidson, 25, of Winter Hill, said trade agreements have led to stronger international ties and thus improved business practices globally.
"It's an important economic and political relationship," Davidson said. "Historically, it's been very important with NATO and I think these days with democratic countries we need these relationships."
Joseph Mooney, 64, of Dover, said his position at TD Bank puts him face-to-face with global trade finance every day. Mooney said the global market place runs on international trade.
"I've been involved in trade for 30 plus years and I think it does keep the world moving and I think what I have from a product standpoint, as a company, what I have to offer to whoever, [and] what they have to offer to me I think helps everybody," Mooney said.
Guy Pacitti, 53, of Newburyport, said a green economy is necessary as natural resources continue to be depleted.
"I don't think there's any way around it," Pacitti said. "Obviously, with what's in the news lately especially about climate change and what we've seen recently with natural disasters and whether they're related or not, [it] is a call for us to respond to implementing technology to be able to find green solutions."