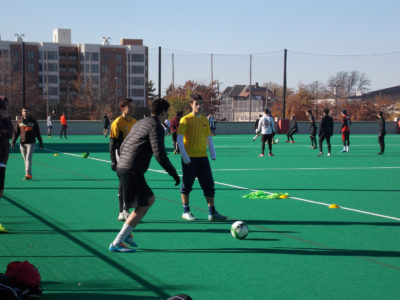 More than 100 students from colleges all around the Boston area gathered at Boston University's New Balance Field Saturday for an afternoon of soccer scrimmages and Latino food in near-freezing weather.
The Latino Soccer Tournament, hosted by Questrom Latino, BU Brazilian Association and their umbrella organization Alianza Latina consisted of 16 teams competing for a first-place cash prize of $100.
Players from Boston University, Berklee College of Music, Boston College, Harvard University, Massachusetts Institute of Technology, Northeastern University and Suffolk University all fielded teams, but a BU team called "Los Millonarios" — a group of four BU students and one BU alumni — ended up winning the tournament.
Kristal Castro, president of Alianza Latina, said during the event has been in the works since the beginning of the fall semester.
"Once we had all of the logistics down, it was just about word-of-mouth and spreading the actual event and getting teams to sign up and tabling and things like that," Castro, a junior in the College of Communication, said at the tournament.
In the past, similar tournaments have been held at other parks in the Boston area, such as Amory Park in Brookline, but this was the first time it was held on BU's campus, said president of Questrom Latino Karla Carruitero.
Carruitero said previous soccer tournaments hosted by QL never reached the scope of the one on Saturday.
"With the help of these other organizations, we were able to rent out New Balance. We have 16 teams, in comparison to the eight teams that we usually had before because now we're a much larger group," Carruitero, a junior in the Questrom School of Business, said. "We have different referees, and we have everybody collaborating."
Carruitero said though the organizations don't turn a profit from the tournament, they still wanted to host it as a way to bring the Latino community together for an afternoon of fun.
"We're not really making any money — it's just for the students," Carruitero said. "It's for the students to enjoy and to create this Latino community."
Twelve teams competed on the New Balance, and students braved temperatures in the frigid 30 degrees Fahrenheit to play.
Meanwhile, spectators bundled up in sweatshirts, hats and scarves and watched from the bleachers while enjoying food provided by BUBA. A variety of authentic Hispanic finger foods was served, including choripán, a grilled sausage roll garnished with chimichurri sauce.
Several spectators and players said they enjoyed being a part of the tournament despite the cold temperatures and appreciated its cultural aspect.
Deean Yeoh, a Questrom junior, said while the tournament was just for fun, the players were clearly skilled at the sport.
"It wasn't just like they were kicking a ball around," Yeoh said. "They knew what they were doing."
Kyle Jaramillo said watching the soccer tournament was a fun pastime and trying all sorts of different foods added to the experience.
"[I'm] getting to taste a whole bunch of different things like Brazilian food. I think there's some Venezuelan stuff as well, Colombian, so it's just a huge variety of both food and the culture," the Questrom senior said. "Anything to support the culture is always a good thing to do."
Alejandro Chiossone, a 2017 Suffolk alumnus and player on a Suffolk team, said he enjoyed the game, the food and the atmosphere at the tournament.
"It's like being in Latin America, but with a little bit more cold," Chiossone said. "It's insanely cold, but a good afternoon of soccer is always good."
Leonardo Francfort, a Questrom sophomore, said it was difficult to go out and play in the cold temperatures, but the matches and the food made it worthwhile.
"To be honest, it's kind of hard to wake up on a day like this and get out of your blankets," Francfort said, "but it was worth it."