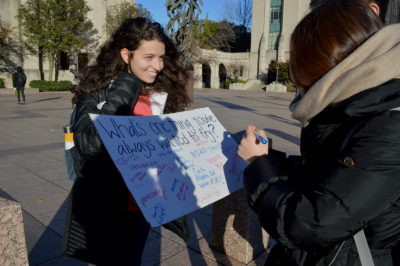 Several Community Service Center members lined a strip of Commonwealth Avenue for a "campus takeover" on Friday, engaging with Boston University students and raising awareness for their upcoming Alternative Service Breaks program.
CSC coordinators, committee chairs and program managers held cardboard signs with questions such as "What's your favorite comfort food?" and "What's one thing you're grateful for?" near the College of Communication, the College of Arts and Sciences, Warren Towers and Marsh Chapel, striking up conversations with students passing by.
Zachary Hobbs, director of the CSC, explained that the takeover aimed to inspire students to become familiar with the center's activities and programs ahead of the upcoming registration for ASB, which takes groups of students to different cities in the country during spring break where they volunteer for various causes including the environment, education and health.
Hobbs wrote in an email that the community outreach component of the event was essential for increasing awareness about ASB.
"Personally, I would never have known as an undergraduate that ASB was happening were it not for a friend who told me about the program, and personally asked me to join them," he wrote. "Our hope is that this gives students an opportunity to meet someone who really cares about this program and is willing to share their story."
Samantha Santoro, the CSC's public relations and advertising chair and a senior in COM, said the CSC decided to hold their first campus takeover to engage students in unconventional ways.
"The CSC takes the normal routes as most clubs at BU do with the tabling and flyers, but this time we really wanted to engage with the BU community in a more personable way," Santoro said. "The difference now is that we're going to take the efforts directly to the people."
Santoro said the multiple ASB coordinators who led the campus takeover on Friday were strategically chosen because they will be leading the volunteer trips in the spring.
"We want them to be the face during the takeover," Santoro said.
Gabriella Knox, one of the CSC's program managers, said that this year they have organized 29 trips with a staff of about 60 coordinators and committee chairs working very closely through meetings and programming.
The senior in the Sargent College of Health and Rehabilitation Sciences said the mission of the takeover closely aligned with the overarching theme of ASB.
"Our mission was going back to our overarching theme and mission and goals for the year, focusing on the empowerment of the individual and focusing on making sure that people feel comfortable facilitating genuine personal connection with their peers and communities," she said.
Albert Jimenez, another CSC program manager and a CAS senior, stood on Commonwealth Avenue near Warren Towers holding a sign that asked passersby "What is something that you hope to change in the world?"
Jimenez explained that the coordinators asked a variety of questions in an effort to engage students in different types of conversations.
"We want to put out questions that are easy to answer, that you can think about," Jimenez said. "There's a lot of variety. This one is meant to be one of the more thought-provoking questions meant to at the very least start conversations with the student body, and I think that's what's important."
Several students passing by actively engaged with the coordinators and wrote their answers with bright markers on the signs.
Robyn Volcy-Lee, a sophomore in Sargent, stopped outside of the City Convenience store in front of Warren Towers and wrote on Jimenez's sign that she hopes to change the "construction of race in the U.S."
Despite the cold weather, Volcy-Lee said she thinks the signs were an effective way to engage students in conversation.
"I noticed the sign, and I wanted to write something," she said. "It's a good way to get people to think."
Brooke Balding, a CAS junior, said she stopped by Marsh Chapel and wrote "visit New Zealand" on a sign that asked "What is one thing you've always wanted to try?"
Balding said the event also allowed her to learn about the goals and ambitions of fellow BU students.
"It makes me think about things I want to do in the future [and] goals I have," Balding said. "It's kind of cool to see what other people want to do."
Tim Lupien, a freshman in the Questrom School of Business, who answered "What's your favorite comfort food?" said he thinks the CSC's community engagement is crucial.
"A community engaged is better than a community not engaged," he said. "It's … important for everyone to be involved."