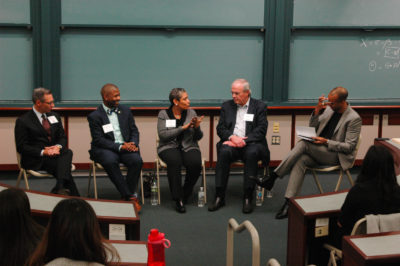 Before a room of attentive students, Boston business professionals shared their experiences of diversity in their companies last Tuesday in the Questrom School of Business.
Hosted by Phi Chi Theta, the Feld Center for Industry Alliances and Questrom's Department of Diversity and Inclusion, "Race in Business: A Networking Night," discussed the importance of prioritizing diversity in hiring.
Chirag Aswani, a junior in the College of Arts and Sciences and the vice president of operations for Phi Chi Theta, said the event on focused diversity because it was an important topic to discuss.
"We wanted to give people an immediate awareness of how important it can play through an organization and to a business," Aswani said. "We went from thinking about having a big conference to dialing it down to a panel and networking session, so it can attract people who have general diversity questions and then also very specific ones."
Aswani said the fraternity prioritized diversity when recruiting, but they wanted to further push for inclusivity by creating a panel about it.
"At the end of the day, it's cool to have someone from Spain or someone from China," Aswani said. "Our goal is to look for diversity because everyone is smart here, but people have different ideas because of different backgrounds and experiences. That really prompted us to bring outreach to that."
Ted Hoff, vice president at IBM, said one of the biggest challenges with increasing diversity is supporting women to ascend into higher positions.
"There's just a lot of cultural barriers on women going into STEM and women being able to advance into more senior levels," Hoff said. "And so IBM has a very concerted effort … to expand the kind of support you give women if they have children to be able to come back into the career."
He said the United States is shifting as a whole to support working women, but international branches that companies like IBM have face more prominent cultural obstacles. Hoff said IBM fully supported LGBTQ rights as an organization, but certain countries they hold offices in have conflicting attitudes.
"We have stood up … specifically to say, 'We're going to treat our people with equality, we are going to be able to ensure that all people have the same rights," Hoff said. "In other countries, it's an even more intense environment."
To combat this, Hoff said, IBM offers partnership benefits to employees living in countries where homosexuality is illegal. He said a company should always prioritize what is right.
The panel also discussed the role bias plays in preventing diversity inclusion.
"[Employers] have to understand their bias first," Manley Gail, director of diversity and inclusion at Fidelity, said. "They have to look at the mirror and say where is my bias … I have to know that, so I can bring somebody who is going to check me on that."
Thuy Phan, a graduate student in Questrom, said employers need to embrace discomfort when confronting internalized bias.
"Our world is diversifying," Phan said. "And I think we all need to be aware of what biases we bring and how we can better include and interact with people who are different from us and just being comfortable with being uncomfortable."
Phan said she appreciated a question for the panelists regarding inclusion of Asians and Asian-Americans when discussing diversity because she feels the groups can be overlooked.
"I thought the question about thinking about the Asian and Asian-American population was a very interesting one that I've never seen asked in a panel before because usually these diversity topics are usually around underrepresented groups," Phan said. "Asian-Americans don't always fall into that because of the model minority thing."
Ellen Kim, vice president of marketing at Phi Chi Theta and a sophomore in Questrom, said she thought this panel varied from others as well because it focused on the inner workings of companies.
"It is different from many other events that you would think a business school would put on," Kim said. "Just seeing the inside that's business-y and network-y and some of the real problems that businesses might have or society in general might have about race or diversity and bringing that to life to a group of students … is really great."