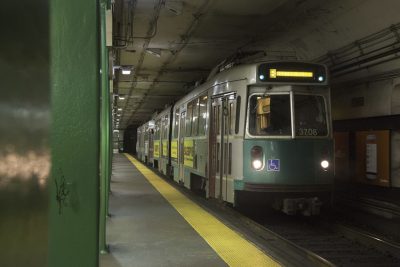 The Massachusetts Bay Transportation Authority was found to be "not sufficient" in their efforts to guarantee safe operations on the Green Line, such as avoiding derailments, in a report by Protran Technology, a technology provider.
The Massachusetts Department of Public Utilities issued the request for a full evaluation of current conditions of track infrastructure and the MBTA's ability to maintain track structure at an "acceptable level" in October 2016.
The assessment team came to the conclusion that the Green Line is in need of a "systematic renewal of … infrastructure." They found that track maintenance and safety standards fail to meet current Federal Transit Administration, American Public Transportation Association or other industry recommended practices.
The report also found that most of the issues arose from problems with age and the design of the track. It also highlighted the importance of regular track maintenance and renewal.
Lisa Battiston, the deputy press secretary for the MBTA, wrote in an email to The Daily Free Press that the Green Line is working to improve its track with enhancements including the replacement of 28,450 feet of track, and over 1,000 ties and tie plates.
"A robust program for improvements to the Green Line track infrastructure is well underway," Battison wrote. "These and other short-term improvements set the foundation for core infrastructure work, which will be done in the months and years ahead as part of a comprehensive Green Line Track Renewal Plan … When completed, costs for the Green Line track replacement project will near $120 million."
Battison wrote that the Green Line has seen a significant decrease in derailments since track maintenance work began.
"Between 2014 and 2016, there were nineteen derailments," Battison wrote in the email. "In 2017, there were three derailments, all of which were caused by human error, not track conditions. There was one derailment last month when a large amount of snow fell onto the tracks at Newton Centre, just as a trolley was departing the station."
The report cited the MBTA favors "on-time performance" over the long-term health of the system. Green line train operators and track inspectors are likewise insufficiency trained for the job, the report also states.
Richard Cranford, 63, of Charlestown, said money needs to be considered before contemplating improvements.  
"Just like anything else, maintenance, as you go along, is better than waiting for it to break and fix," Cranford said. "But also like anything else in society, society needs to come up with the money for this stuff, and that doesn't seem to be a priority."
The report states that, due to track infrastructure conditions, trains could be at times "operating at/or near potential derailment threshold limits" and that often, these types of conditions are only recognized or acted upon after a derailment or similar situation.
Ioannis Paschalidis, director for the Center for Information and Systems Engineering at Boston University, said issues with the line could contribute to bottleneck issues in Boston.
"Boston is already an extremely congested city, in terms of the use of the road network," Paschalidis said. "In fact, it is in the top 6 or 7 urban areas in the U.S. in terms of congestion. I think there have been some studies which indicate that it is perhaps at the very top in terms of increased congestion per year. Clearly, this is related to the public transportation services and also the way they service them."
Tommy Austin, 30, of Back Bay said he's not surprised serious transportation issues are rarely discussed.
"As soon as someone gets killed, then all of sudden everyone is going to care," Austin said. "It's like any other issue in society. Once you let it get too far then something bad happens, then people start caring about it."
Taylor Peck, 22, of Allston said she sees problems with the T regularly.
"There are issues that need to be faced and it would probably be better if they were done quicker, rather than last-minute fixes because [they] have done nothing," Peck said. "I have lived in Allston on the B line for two, almost three years now and it has been an issue the whole time I've been here."