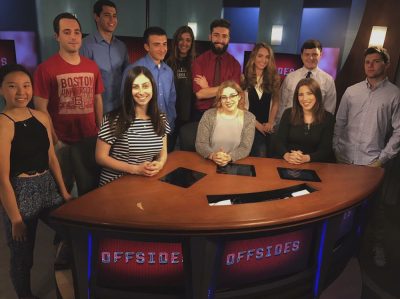 BUTV10 programs "Offsides" and "One on One" have received recognition from the Boston/New England chapter of the National Academy of Television Arts and Sciences.
"Offsides" won a Student Award for Excellence for the spring 2017 episode "Race Against the Shot Clock" in the sports program category and BU's "SportsNight" was named an honorable mention. "One on One" received an honorable mention in the short form nonfiction category for its spring 2018 interview with journalist Theo Padnos. The awards were announced last week.
The Student Awards for Excellence, which are awarded annually, were created to recognize student achievement in production, wrote NATAS Boston/New England Chapter Administrator Jill Jones in an email.
"The presentation of these awards is intended to be an incentive for the continued pursuit of excellence by those studying media and journalism and to focus public attention on outstanding cultural, educational, technological, entertainment, news and informational achievements by undergraduate college and/or high school students," Jones wrote.
Panels of media professionals judge submitted programs on three criteria: content, creativity and execution.
"Offsides" is a sports talk show with roundtable discussions and debates on newsworthy topics in professional sports, producer Jane Rose wrote in an email.
The "Offsides" producers chose to submit the "Race Against the Shot Clock" episode because it was one of their first episodes after the show underwent significant production changes, adding new graphics and changing the segment structure, said Marissa Dianas, the director and producer of the recognized episode.
"We really felt that that was the first time we had executed some of our newest strategies and it was more successful in creating a cohesive episode," Dianas, a junior in the College of Communication, said. "… It was the best in terms of matching great content with great visuals and higher production quality."
The show's producers put a lot of work into restructuring and improving the show's form, Rose wrote.
"We didn't see it as just some extracurricular on Fridays, we saw an opportunity to actually put on a great production," the COM senior wrote.
Nick Neville, also an "Offsides" producer, said he thinks the show has greatly improved its presentation, arguments and overall content.
"Seeing this show in the state that it is right now, it's really inspiring because I feel like we really took it to another level," the COM senior said.
From putting together graphics to writing the scripts, a lot of work goes into making the show, said Eric Getzoff, co-host of the recognized "Offsides" episode. He said he was glad to see this effort recognized.
"There's a lot of work that goes into it," the second-year COM graduate student said. "It was cool that we were chosen because of all the hard work that we put in to prepare for the show."
This is the first time "Offsides" has ever received an award, Dianas said.
"I'm honestly blown away," Dianas said. "… It really means a lot that all of our hard work [is] getting recognized at this level."
Rose, a COM senior, wrote that being a part of "Offsides'" first award was an excellent way to end her time on the show.
"I'm really proud that something that brings me so much joy is being recognized," Rose wrote. "The cast and crew are so close, which in itself is a win, but then for that to come together with this outside success is better than I ever could've imagined when I first joined."
BUTV10 interview show "One on One" submitted three episodes for review, and received its first honor for the Theo Padnos interview, faculty advisor Christophor Cavalieri wrote in an email.
Sarah Sosland, who hosted and co-produced the recognized episode, wrote in an email that a lot of preparation was needed to be able to hold an appropriately in-depth interview.
"At the beginning, holding a conversation about the war in Syria seemed unbelievably daunting," the COM senior wrote, "but as we did more and more research, I think our confidence levels grew and we were able to host a very informed conversation."
COM Technical Manager for Film Jamie Companeschi, who co-produced the recognized episode, said he thinks the Padnos interview was especially engaging because of Padnos' interesting story and his charisma.
Cavalieri wrote that he thinks the Theo Padnos interview was well-produced and merited its recognition.
"The students produced a solid interview that's well presented," Cavalieri wrote. "Their effort and ability shows."