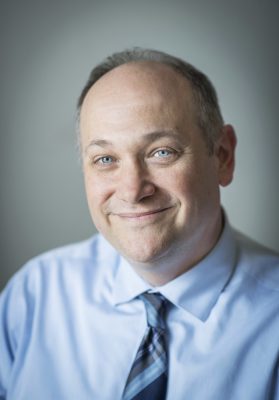 Boston University Assistant Vice President of Government and Community Affairs Jake Sullivan has been promoted to vice president of the same office. He will replace current Vice President Robert Donahue, who is retiring after 32 years at BU.
Donahue helped recruit Sullivan, whom he has known for 17 years, to work at BU two years ago.
"He's innovative, he's collaborative and he's strategic," Donahue said. "I can't think of a better replacement. I feel very comfortable leaving the office in the hands of a very capable shepherd."
Before coming to BU, Sullivan spent three years working for a congressman in Western Massachusetts, he said, followed by two and a half years working in the Massachusetts legislature and 15 years working for the City of Boston under Mayors Thomas Menino and Martin Walsh.
Sullivan is a "respected, experienced and highly collaborative government relations professional," and is well-qualified for his new position, Senior Vice President of External Affairs Steve Burgay wrote in an email. He wrote that Sullivan has collaborated well with elected officials, policy makers and city and state staff.
"It's clear they respect his skill and integrity, and that's what we want in a VP of Government & Community Affairs," Burgay wrote.
Sullivan said he plans to deepen the university's partnerships with various community groups and initiatives.
"I really want to build on the strengths of this office as a great neighbor, as a great community partner and [as] an active participant within the Boston community, within the town of Brookline and throughout the Commonwealth," Sullivan said.
The role of the office of Government and Community Affairs is to share the university's expertise with the greater community, Sullivan said.
"It's very important as an urban campus to be active and connected," Sullivan said. "… We work hard to make sure we can position the resources and talent within the university into the community."
BU Government and Community Affairs is the official liaison between the university and the Boston community, Donahue said. The office oversees campus building permits and partnerships with community groups and initiatives, among other things.
Donahue will officially step down on May 1, he said. He plans to stay at BU until December to assist Burgay.
Donahue was director of city relations from 1986 until 2011, when he was promoted to vice president of government and community affairs.
Given the lack of any major projects on the horizon, Donahue said, it is a good time for him to step down.
During Donahue's time at BU, Government and Community Affairs oversaw the construction of the Fitness and Recreation Center, the Student Village, the Questrom School of Business, the Rajen Kilachand Center for Integrated Life Sciences and Engineering and 100 Bay State Road.
"It's an entirely different campus today than it was when I started," Donahue said. "The physical campus has changed a lot and we've done a lot of work on the infrastructure in cooperation and partnership with the City. It's been a very rewarding career here, and I appreciate the opportunity."
Sullivan said Donahue was vital to executing many different BU leaders' visions over the years, and helped improve both the university's physical campus and its community partnerships.
"He has had his fingerprints on so many effective, innovative collaborations to make sure that Boston University was a good neighbor and partner to the city and the surrounding communities that we do our work in," Sullivan said.
Some specific achievements of Donahue's include overseeing the implementation of master plans for campus growth and development, improving access to BU for Boston Public Schools graduates and securing approval for the BU Medical Campus to open a Biosafety Level 4 laboratory, Burgay wrote.
"Bob Donahue is very much the architect of the strong and positive relationship we have with the city of Boston," Burgay wrote. "… Our relationship with the city has been, and remains, superb, and Bob got us there."