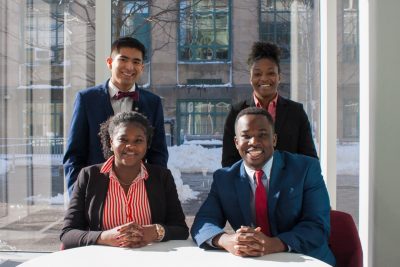 In March, Boston University students elected the Build BU slate to the 2018–2019 Student Government Executive Board.
Build BU comprises Student Body Executive President Devin Harvin, a senior in the College of Arts and Sciences, Executive Vice President and CAS junior Hafzat Akanni, Executive Vice President of Internal Affairs and CAS senior Lovie Burleson and Vice President of Finance Hector Meneses, a senior in the Questrom School of Business.
Build BU ran on a platform of uniting the BU community and giving a voice to students. A principle initiative of the slate's was "A Seat at the Table," which Akanni said would work to better represent the diverse range of students at BU.
All members except Meneses will be new to SG in the fall.
Going forward, the new e-board will be expected to follow through on their three campaign pillars: classroom, culture and communication. Their "classroom" pillar centers around a zero-cost textbook initiative that aims to make classroom materials free to BU students, while their "culture" pillar aims to increase school spirit on campus.
In the last months of the semester, Build BU had already begun on the "communication" pillar by reaching out to and meeting with student groups, both before and after the election. Burleson said the slate contacted over 60 groups.
The slate expressed interest in strengthening relations between SG and Student Health Services in an aim to better take care of students.
Build BU also expressed a desire to work directly with university administrators. Akanni said several slate members already have working relationships with university officials and cited this as one of their strengths during their campaign.
This year's election saw an increase of over 500 votes, said Student Election Commission co-chair Vincent D'Amato after the election. A total of 1,700 students voted in March to select their new e-board.
Build BU was picked over BUnited, a slate that sought to improve intra-college relations within the university and offer better accessibility of resources to all students.
Build BU hopes to reform SG in the coming months by increasing both student outreach and student participation. In recent years, both students and senators alike have expressed frustration with SG's work.
Last year's Student Body Executive President SaraAnn Kurkul was already working toward reform. SG's last meetings of the semester included debate over constitutional changes and a vote to restructure the student-run Allocations Board, the body that allocates money to student groups on campus. Kurkul also encouraged senators to reach out to groups on campus.
Build BU will be joined in the fall by CAS senior Andrew Chiao as Senate chair.