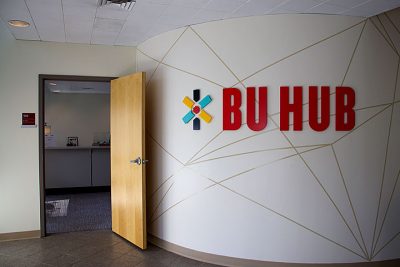 This week, the Cross-College Challenge (XCC) course, part of the BU Hub curriculum, begins on Boston University's campus.
XCC brings students from BU's 10 undergraduate colleges together to collaborate on interdisciplinary projects, according to its website. It aims to give students real-life work experience in their field through research, development and the production of a final product. Projects can cover a series of topics, including arts and society, sustainability, education and Boston itself
Head of the Hindi Language Program Shilpa Parnami and Lynn O'Brien Hallstein, an associate professor of rhetoric, collaborated to create a project aiming to promote the study of Middle Eastern and South Asian languages at BU, as these programs are relatively small.
Parnami's work in the foreign language department helped her realize the need for a greater knowledge of non-Western languages at BU specifically, she said.
Students will gain valuable skills while they tackle this real-world problem, O'Brien Hallstein said.
"They'll develop their leadership, teamwork and communication skills," O'Brien Hallstein said. "[Parnami and I] both really liked the idea of integrating that skill set for the students."
These skills are especially relevant "in the contemporary world, and especially the contemporary job market," Parnami said.
Gavin Benke is a lecturer in the College of Arts and Sciences Writing Program, and co-lecturer of an XCC project entitled "Consolidation of Health Care Providers; Good or Bad for the Health System."
Benke wrote in an email that he signed up to teach an XCC course because of the program's "unique" approach to education. His class was proposed by co-lecturer Rich Feeley, an associate professor of global health, and will address the impending merger of healthcare systems Beth Israel Deaconess Medical Center and Lahey Health in Massachusetts.
"The healthcare merger is a hot topic in the city," Benke wrote. "So there is plenty of material for students to work with. It's also a really complex issue, so there are a lot of different questions the students will have to confront."
Benke wrote that he believes the XCC will be a benefit to students, introducing them to the intricacy of such issues.
"More than anything, I hope our students will finish the semester with an appreciation for how complex an issue can be and how it requires looking beyond easy answers." Benke wrote.
Not all XCC projects are proposed by professors — some are suggested by local clients. One such client is The Royall House and Slave Quarters, a volunteer-run historic site in Boston. The Royall House runs tours by appointment for school groups and houses academic talks on slavery and historical America, according to its website.
Kate Nash, a co-lecturer for XCC course "Building New Audiences for the Royall House," wrote in an email that participating students will work on low-cost marketing solutions to increase the museum's profile. She wrote that students will have many avenues to explore, including social media outreach, lecture opportunities and paper advertisements.
Nash and Associate Professor of Special Education Nathan Jones chose the museum for its historical significance as well as the creative potential the project offered, she wrote.
"Among other goals, we would like the students to learn how to work together as a part of an interdisciplinary team, building on their individual backgrounds and strengths to craft a logical, creative solution and present it persuasively." Nash wrote.
Michaela Johnston, a senior in the College of Communication, said she specifically chose to become involved in XCC in her senior year because of the interactive approach to education the program provides. She looks forward to "combining [her] skills with those of other students, learning new skills and growing as a student and as a person."
Johnston, a film major, also said she thinks the interdisciplinary course will help her branch out from her major.
"Since [XCC is] so interactive, I think it will allow me to work on many different skills," Johnston said. "I think sometimes, being a student, you get put into a box … With this new class, I can learn new skills and go beyond the box that I'm put in because of my major."

Jen Racoosin contributed to the reporting of this article.