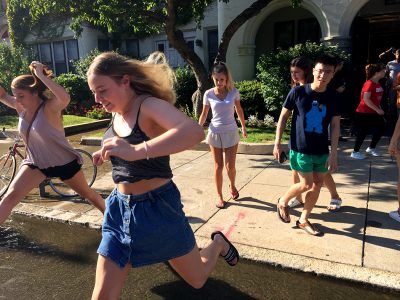 By Jen Racoosin and Hannah Schoenbaum
Danielsen Hall was evacuated Wednesday afternoon due to a small fire which resulted in water damage.
A towel in close proximity to a light bulb ignited the fire in room 925 around 4:15 p.m., which triggered the sprinkler system, Danielsen Hall security guard George Karavas said. Further investigation will determine whether the flammable light fixture that caused the accident was provided by the university, Karavas said.
Danielsen resident Brigid Mack, a sophomore in the College of Arts and Sciences, said she stayed in her ninth-floor dorm room for nearly 10 minutes when the fire alarm sounded, thinking it was a false alarm triggered by building construction. She only evacuated the building after peering down the hall at the room where the incident occurred.
"Water was flooding from under the door, and it smelled like smoke," Mack said. "I have never run downstairs so fast in my life."
BU Facilities Management and Planning responded by cleaning the upper floors and surveying the building for substantial water damage. The residents of floors seven and below were cleared for re-entry about 30 minutes after the initial evacuation, followed by the tenth floor an hour later.
Bart Considine, a CAS sophomore living in Danielsen, said that upon hearing the fire alarm, he ran outside and saw a flood of water spilling from a pipe located on the outer wall of the building.
"It was like two or three feet wide in some parts to jump over," Considine said.
Water damage was isolated to the eighth and ninth floors of the building, BU spokesperson Colin Riley said. Residents of those floors were unable to re-enter the residence hall until 6:40 p.m., nearly three hours after the fire.
Several residents, including College of Communication sophomore Mayuri Nagpal, said they were concerned about water damage to their rooms and belongings, fearing that they would have to find another place to stay overnight.
"Our room is super close to where it happened, so I thought maybe our room could have been flooded," Nagpal said. "I was worried for our room, and I thought we would have to stay somewhere else for the night."
Residents of Room 925, where the fire originated, will be displaced for at least one night, Riley said. 
Breanne Kovatch, Haley Lerner, Kiran Galani and Riley Villiers contributed to the reporting of this story.