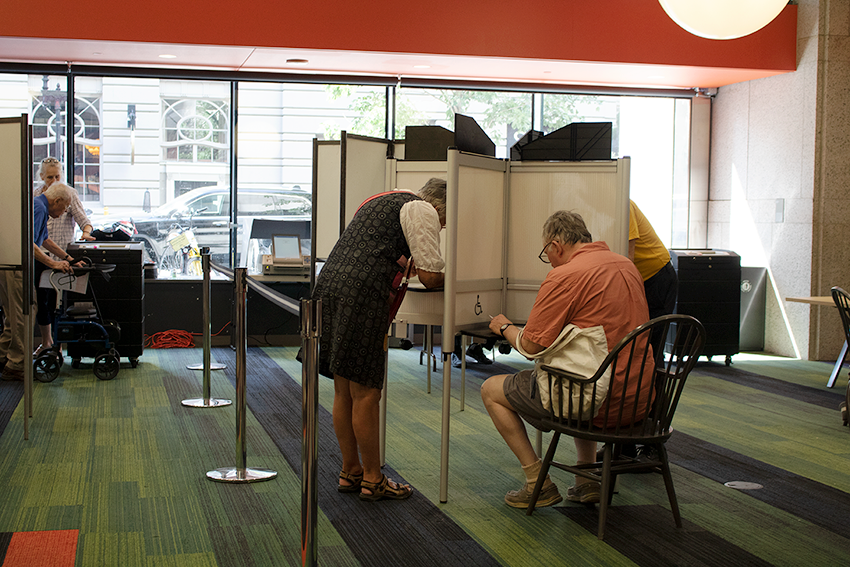 Voters flocked to the polls Tuesday to cast their ballots in what became a historic primary election, with a voter turnout significantly higher than that of last year's Boston mayoral primary.
Of the 403,560 registered voters in Boston, a little more than 100,000 residents cast their ballots, according to unofficial results from the City of Boston. The voter turnout rate for registered voters in Boston rounded out to almost 24.9 percent.
This year, the voter turnout rate has more than tripled compared to last year's mayoral election primary turnout, where just 55,000 residents out of the 390,136 registered voters at the time cast their ballots, equalling out to about a 7 percent voter turnout.
John Berg, an emeritus professor of government at Suffolk University, said he think such factors as the number of candidates, party representation and residents traveling out of town might have affected voter turnout.
The timing of the primaries — happening the day after Labor Day weekend — might have prevented some people from going to the polls, Berg said. However, he thinks the many competitive races could have drawn more people to vote.
"Not only are the people more interested, but it means you have campaign organizations pulling people out of their houses and pulling them to the polls," Berg said.
Greg Dennis, policy and research director at Voter Choice Massachusetts, an organization that advocates for a ranked choice voting system in the state, said he thinks one way to improve voter turnout is by making voter registration an easier process.
In Massachusetts, Dennis said the state has taken a step in the right direction with the Massachusetts House passing an automatic voter registration bill. If the bill is passed into law, residents will automatically be registered to vote when they interact with the Massachusetts Registry of Motor Vehicles or the MassHealth program.
Virginia Sapiro, a political science professor at Boston University, wrote in an email that voter turnout in the United States is relatively low compared to other countries during presidential elections, is lower during congressional elections, is even lower for local elections and is typically "pretty terrible" for primaries.
However, lower voter turnout could be for other reasons. Sapiro wrote that some groups of people experience more obstacles to voting, including poverty and long work or school hours.
"There is some voter suppression in some places, especially based on race in certain areas and of students in college towns (not Boston)," Sapiro wrote. "But that doesn't account for the generally terrible turnout of the American people, especially young people, in our elections."
In Massachusetts, registered independents make up the highest percent of registered voters in the state, according to The Boston Globe. Of the registered voters in Massachusetts, 55 percent, about 2.5 million people, are registered as independents and had the flexibility to vote for candidates from any political party in Tuesday's primaries.
People who are not affiliated with political parties are less likely to vote than people who are affiliated with a political party, Sapiro wrote. Because of this, she did not expect registered independents in Massachusetts to participate in primary elections.
"Why would we expect independents to participate?" Sapiro wrote. "In many places they can't — you have to be registered as part of a party to determine who its candidates are. Why should someone who has nothing to do with a political party pick its candidates?"
Berg said, oftentimes, when people do not identify with one party, they are less inclined to vote in the primary election and only vote in the general election.
Emily Keller, of Allston, said she voted because she feels it is the one action she can take to actually incite change.
"I didn't vote when I was young, right when I could vote, because I wasn't versed on the issues," the 24-year-old said. "And then, once you get a little bit older and get more versed on the issues and you learn, 'Hey, there are people out there trying to learn and trying to make a difference and fix the issues.' It's important to elect those people."
Jeffrey McCarthy, 63, of Fenway, said he thinks it is important to vote because voting is his civic duty. When people don't vote, he said, the wrong people get elected.
"Sometimes, you can tell when elected officials are elected and they shouldn't be, and it's because not enough people voted," McCarthy said. "I think we should make it even easier for people to vote than what we do."