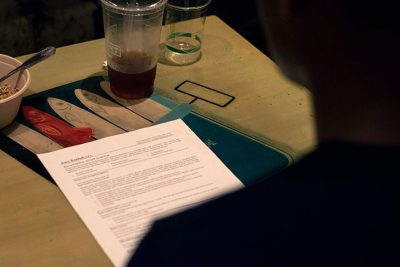 Have you ever wanted to improve your resume but were unsure where to begin, or, didn't have the time? Boston University's Center for Career Development will be rolling out resume-review platform VMock to students around Oct. 1.
The online platform, available 24/7, will allow students to upload their resumes and receive real-time feedback on not only the grammar and spelling, but the language and "proper quantification of information" for their resumes, said CCD Executive Director Louis Gaglini.
The resume-reviewing platform's algorithms allow students to compare their resumes to those of their peers, Gaglini said, not only those at BU but at other major universities.
"As you might imagine, there's a lot of information that goes in before any resumes are written or reviewed that helps students," Gaglini said. " …[It] doesn't write the resume for you, it enables you to write a better resume."
The CCD has spent months providing VMock's project team with information about the student body, employers, and internship and job listings, to help them create the predictive analytics and algorithms of the tool, Gaglini said.
The CCD internal project team is currently carrying out a "testing phase" of the platform before it is rolled out to other career development professionals across campus.
Although students will still have the chance to visit the CCD and get their resume reviewed in person, one of the benefits of VMock is that students can access the service on their own time and at their convenience.
"They don't need to go to an office or make an appointment, and that's one of the greatest features about this," Gaglini said. "… Not only is it high quality, instantaneous, customized feedback, but you can get that feedback whenever you wish. You just log in and get the feedback and you can work on it when it suits your schedule."
College of Arts and Sciences sophomore Grace Gaynor said that she would definitely use the tool, as she has wanted to have her resume reviewed at the CCD, but has not had the time.
"It's probably easier to [use VMock]," Gaynor said. "I think that'd be awesome, and I think it'd be cool to compare with other people, because you can't do that in person."
Students will hopefully have the chance the check out the tool in time for the university-wide career fair on Oct. 17, Gaglini said.
Other students said they like the fact that the platform can be used online, including College of Communication junior Philip Motter, although he does not currently have a resume.
"If I don't have to interface with a person, and I can do this online, I'd rather do that," Motter said.