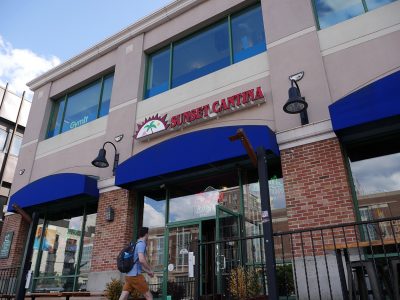 A familiar Mexican eatery on campus will undergo a "facelift" to better serve its customers.
Sunset Cantina, located at 916 Commonwealth Ave., will be redesigned under the restaurant's new ownership, the East Coast Tavern Group.
Oran McGonagle, the group's operations manager, wrote in an email that they would be renovating the kitchen, putting in a new draft system and revamping the whole design of the restaurant's right-hand side.
"This is to allow for better service as well as create a better environment for customers to come in and enjoy the space," McGonagle wrote. "We feel it needs a facelift as it has got[ten] old looking and the newer side [does] not fit in well with the existing side."
The East Coast Tavern Group knew they would be renovating the restaurant as soon as they bought it, McGonagle wrote.
"Service will improve greatly because of this," McGonagle wrote.
The dates of closure have yet to be determined, he wrote, but the changes and renovations are expected to be completed by October.
"As soon as we get in there and have established the workload, we will decide [when the restaurant will close for renovations]," he wrote.
Lia Cirelli, a graduate student in Boston University's School of Public Health, said she thought the renovations could help improve the atmosphere at the restaurant.
"I really like the place as it is," Cirelli said. "It's a really fun place for students to go and grab something to eat or get a drink. But perhaps the renovations can make the place a little more inviting, because the atmosphere can be a little dark sometimes."
Shannon Neff, a sophomore in the College of Fine Arts, also said she thinks the renovations are a good idea because they could improve the look of the venue.
"I know that if [Sunset Cantina is] going to be shut down for a while, … that could be an issue, because a lot of people go there regularly to hang out and stuff," Neff said. "But I feel like once it reopens, it could draw an even bigger crowd."
McGonagle also wrote that though the menu will remain largely the same, a few changes would be made to increase the choices available to patrons. In addition to bringing back the classics, the menu will be expanded to feature 20 new items.
Darshi Choubisa, a junior in the Questrom School of Business and a regular patron of the restaurant, said she hopes the new menu maintains Sunset Cantina's many great vegetarian options.
"If they have the things I still eat, that would be great," Choubisa said, "but if they [remove] vegetarian options, that would break my heart, honestly."
The East Coast Tavern Group is currently looking for new name ideas through its various social media accounts, McGonagle wrote. Whoever thinks of the name that they decide to use will be invited to opening night, along with 20 friends, and will receive a VIP party package — as long as they're over 21.
Michaela Brooks, a junior in the College of Arts and Sciences, first visited Sunset Cantina when she was a freshman. When told about the possibility of renaming the restaurant, she said that rebranding is always good.
"[It] seemed to work with IHOP when they did the thing with IHOb," Brooks said. "So I don't know, [it] could be good."
Choubisa said she feels like the original name suited the restaurant well.
"You just know what the place is about when you see Sunset Cantina, so I don't know how I'm going to feel about the new name," Choubisa said. "I hope it's something better. I think in my conversations, I'm still gonna use … 'I'm going to Sunset.'"
Kiran Galani contributed to the reporting of this article.