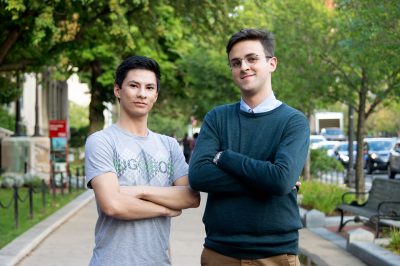 Boston University will soon be home to the newest chapter of the Association of Latino Professionals for America, a national organization that aims to provide opportunities for Latino students seeking careers in a diverse range of economic sectors.
ALPFA provides local, regional and national opportunities such as internships, scholarships, mentorships and sometimes even jobs at Fortune 500 companies, Natalia Hilton, the director of chapter operations at ALPFA Boston, wrote in an email. The group was created in 1972 to "build upon a foundation of leadership and create a legacy."
Hilton wrote that as a local chapter, ALPFA will connect student chapter leaders with regional and national leadership. At the national level, the association hosts events such as symposiums, workshops and career fairs.
The BU chapter is being started by Humberto Rada, a senior in the Questrom School of Business.
Rada first found out about the organization from his sister, who had been a part of the organization at Bentley University, and he was surprised when he found out BU didn't have a chapter.
"I was taken aback because BU is one of the largest schools in Boston, and smaller schools like Bentley have this organization," he said. "So I thought that it would be something good to start."
While several Latino organizations are active on campus, few focus on career-related professional aspects, said Max Reich Marin, a future member of ALPFA's E-board. The Questrom senior said he could have used a network like ALPFA while looking for internships and hopes the incoming students at BU benefit from it.
"I thought that this organization could help other people like me find those opportunities and find those connections that they need to find those jobs that they need to get," Reich Marin said.
ALPFA would eventually join other Latino student organizations under the umbrella group Alianza Latina so the groups could coordinate activities, Rada said.
Besides providing professional opportunities, Rada said that ALPFA offers a strong community.
"What differentiates [ALPFA] from just any other professional network is that ALPFA is run like it's a family," Rada said. "… What the people really are trying to do is … make a community where people can support each other in all terms. Professionally, personally, great mentorship throughout the years … because life is always about having someone that can help you, and that's what ALPFA tries to do at a national level."
The organization will serve as a useful networking tool for Latino students, Questrom senior Ana Barajas Oyarzun said, which is something she believes BU currently lacks.
"It would be a great addition to the BU campus because it adds so much diversity and provides so many networking opportunities to Hispanics and Latinos," Barajas Oyarzun said. "While there is already a Latino club, this just adds a lot more emphasis on employment on a national level, because it's one of the most nationally widespread business organizations for Latinos in the country, I believe."
Minority students often face difficulties while trying to find professional opportunities, senior Cristiane Sanchez said, so ALPFA coming to campus can be useful in providing connections these students may otherwise miss out on.
"It can get really hard for minorities to get a job, especially when they don't even know where to start, how to make a connection, how to talk to people who can get them an interview," the Questrom student said. "The best opportunities that I think ALPFA offers is the chance to make connections."
Since Rada will graduate next year, he said he sees the future ALPFA chapter as a legacy that he will leave behind for other Latino students at BU.
"It would be like leaving my legacy and giving back to BU," Rada said, "just being grateful for all the opportunities that have been provided to me."