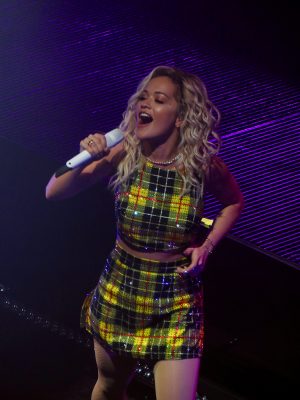 Rising to the top as a female artist is no easy task in the modern music scene. Though it's taken her almost a decade, Rita Ora has done it with grace and unrivaled perseverance.
Six years after releasing her debut album, Rita Ora is back with a powerful anthology. "Phoenix" chronicles the aftermath of her stardom introduction and how that has affected her personal life as she has rapidly become one of the most well-known rhythm and blues artists in the world.
Between highly publicized relationship troubles, legal issues with record labels and unfavorable tabloid coverage, the past few years have been difficult for Ora. She channels all of her public and private struggles in this record.
Original fans of Ora will appreciate the return of her raw, gravelly voice and honest lyrics that cut deep: what comes out in "Phoenix" is a new level of bada–ery.
After the release of her first album, Ora struggled to differentiate herself from other female artists. Being featured on Iggy Azalea's single "Black Widow" hindered her ability to stand out and left her to be known as Azalea's hype girl.
Individuals in the music industry let it be known they didn't approve of Ora. The Kosovan artist, who grew up in a middle-class neighborhood in London, refused to give in to critics, and she channels this into her new record, screaming that she's here to stay.  
Her collection of singles work together to form a monologue recapping her rise from dark times and noble intentions for the future. With her trademark combination of soul and funk and a modern take on opera, her new record stands out among the masses. Her rise from the ashes is suitably titled "Phoenix."
Bits of the album were released as singles periodically. "Your Song" with Ed Sheeran debuted in 2017, "Girls" with Cardi B, Bebe Rexha and Charli XCX was released in May, and "For You" with Liam Payne was included as part of the "Fifty Shades Freed" soundtrack in January.
By the time the full album debuted, the world already had a taste of the new powerhouse that Ora had become. Within days of her new album's release, she's gone from a niche favorite to a prominent figure in the international R&B scene.
"Soul Survivor" is Ora's take on being a survivor and how going head to head with powerful individuals affected her in the music industry. She combines how she has survived mental health setbacks with a message of feminism synonymous with current dialogue.
Ora, well known for empowering both women and immigrants, conveys this with her personal favorite single. Lyrics such as "Damn frustrating that you think I could never make it / Look who's standing right in front of you" cement her uncanny ability to connect with female listeners.
The bridge pulls through with a fast pace that gets listeners moving the way any Bee Gees song can.  
Ora's collaborations with Chris Martin and Julia Michaels is another highlight of the album. On "Keep Talking," both strong female artists lament about how social media has negatively impacted their mental health and translate that into an anthem that every modern woman can relate to.
Ora's moody tone combines with the positivity that Michaels' voice radiates and molds into an extremely catchy chorus. Martin contributes an upbeat bridge that compliments the power that the lyrics hold.
He takes what Michaels and Ora want to scream to the world and turns it into a hybrid of '80s synth-pop and Janet Jackson-style ballads. Along with that comes the earworm lyrics that he brings to Coldplay records.
"Falling to Pieces" is Ora's ode to her home of London. She plays storyteller as she sings about the city that raised her. This single is the most personal on the record.
A rainy day in central London is reflected in moody lyrics. While rainy is the overall mood, there is an empowering spirit. Ora conveys the attitudes of everyday Londoners and their unique stories.
Ora does what she's great at on this new record and enlists the help of others to emerge as a top international artist. Her struggle to complete a fresh album makes this one that much better. Ora's future as a female artist in the coming years shows promise as she continues to mold genres and broadcast her feminist ideals.