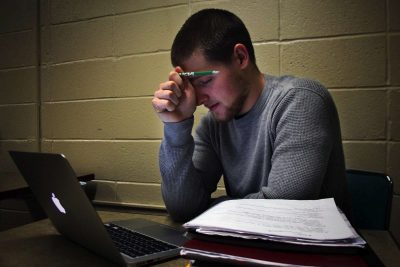 As the end of the fall semester approaches, Boston University student organizations are working to develop new plans and activities to help students cope with the stresses surrounding the increase in assignments and exams.
BU Student Government, for example, will hold R and R — short for rest and recreation — sessions Dec. 14 and 15. SG press secretary Sydney Gullett wrote in an email that the sessions give students an opportunity to take a break from studying during finals week.
"The purpose of R and R is to give students a space to relax and re-engage during finals season," Gullet wrote. "It is important for students because it will allow students to destress and hopefully revitalize their study efforts."
Howard Thurman Center Director Katherine Kennedy said that although the HTC does not have any additional programs scheduled during finals, the center will be placing additional emphasis on the programs it already offers.
Kennedy said the HTC offers regular programs such as a weekly tea times, book clubs and opportunities for students to engage with open discussion with one another.
"Our daily intention is to help students de-stress, and all of our programs are designed to complement their academic lives," Kennedy said.
Kennedy said she hopes the students who come to the HTC leave having learned how to better handle their feelings and fears.
In addition to the HTC, BU offers year-round support services for students, such as academic advisers and tutors. BU spokesperson Colin Riley said students should take advantage of these resources in order to feel less stressed and more prepared for their assignments and finals.
"Make sure that from here to the end of the semester that you have been able to receive all the types of support to help you complete your semester as strong as you like," Riley said. "If students have been somewhat conscious all semester, hopefully they won't be under extreme stress."
Kennedy said it is the center's "daily intention" to help students manage and cope with stress, not just an end-of-the-year goal.
"We put extra emphasis on [weekly programs] near the end of the semester in preparation to help [students] through any anxieties they may be feeling," Kennedy said. "We feel all of our programs are there to help students on a daily basis and deal with the demands of the academic life."
BU students said they feel more stressed out toward the end of the semester, though they do not plan to attend the stress management events.
Olenka Tytla, a junior in the College of Arts and Sciences and Wheelock College of Education and Human Development, said that she usually manages her workload on her own instead of participating in de-stress activities on campus.
"I've never really participated in the stress-buster activities," Tytla said. "It always conflicts with the work that I have to do anyways, so I sort of skip that to do work on my own routine."
College of General Studies sophomore Evelyn Perez said she thought de-stressing programs would work better if they were centered around specific issues.
"I do think having [them] geared towards more specific demographics helps students more because they find people who relate to them," Perez said.
Nicholas Rodelo, a sophomore in CAS, said that he often feels stressed out toward the end of the semester as deadlines and finals are approaching.
"I feel like I reach a burnout point every year," Rodelo said. "I feel for the first three-quarters I'm fine or I'm starting to get a bit stressed, and towards the end of the year, you have to grind for the rest."
Besides Coffee and Conversation, a weekly current events discussion run by the HTC, Rodelo said he wasn't aware of any other stress management programs put on by the center.
"I honestly don't know how much you can do with programs like that," he said. "I feel like a lot of it is personal management in my own opinion — I just put too much on myself."
CORRECTION: A previous version of this article misattributed a quote to Riley. An updated version of this article reflects this correction.