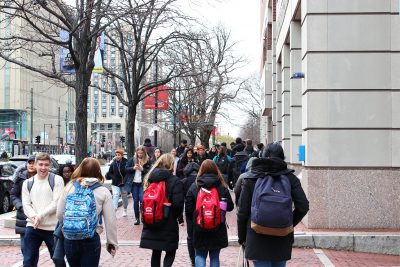 The Boston University Strategic Planning Task Force has begun work on its strategic plan for the next decade and is holding listening sessions to get the BU community's thoughts on what should be included.
The task force, led by BU Provost Jean Morrison, was put in place this fall to develop a vision for the university in 2030, BU President Robert Brown wrote in an email. The university implemented its first strategic plan in 2007, he wrote.
"Strategic planning is a complex and comprehensive process that is only undertaken about every decade because of the time needed to implement the vision," Brown wrote.
The university will use the new plan to help guide decision-making, direction and university priorities in the years leading up to 2030, said Kimberly Howard, a task force member and associate professor in the Wheelock College of Education and Human Development.
The task force is currently working on gathering input from BU staff, faculty and students by holding numerous "listening sessions" across campus, Howard said.
"We have invited anyone and everyone across the university community to attend these sessions and provide us with their thoughts about where they think the university should be going," Howard said.
The final listening session will be held on Jan. 30, 2019. Following the sessions, the task force will try to identify major themes and priorities from the community's vision for BU in 2030, Howard said.
"At that point, our task as a task force will be to take all of that feedback across the various constituents and really sift through it to see what the themes are," Howard said. "So, in many ways it's a great, big, qualitative project that we will be engaged in once we are finished with the data gathering process."
BU students had several suggestions for changes that could be implemented as part of the new strategic plan.
Pedro Henrique Junqueira, a freshman in the College of Arts and Sciences, said he appreciates the task force's willingness to take community suggestions.
"I think BU should give more scholarships to international programs," Junqueira said. "I think they should renovate at least Warren, and I think they should improve the BU shuttle program and make it more regular."
College of Communication junior Hannah Schweitzer said that the most important change she wants to see is the availability of feminine hygiene products in bathrooms on campus.
"My No. 1 thing, and I know that this won't be that hard to achieve, is that all the bathrooms don't have tampons or feminine hygiene supplies," Schweitzer said. "It just seems crazy to me that you can build a whole new building, but you can't provide tampons in bathrooms."
Erin Neville, a graduate student in Sargent College of Health and Rehabilitation Sciences, said that she feels her college does not receive enough funding.
"It's one of the best colleges in the country for healthcare, and there's no money that's ever put into it," Neville said. "The school [building] is pathetic compared to Questrom, so if there's one thing that should be changed, it's that."
Howard, who is a member of the task force, said that while it is too early to tell what the focus of the next strategic plan will be, a large majority of the suggestions so far have focused on BU's teaching, research, service and outreach missions.
Daniel Dahlstrom, another member of the Strategic Planning Task Force and a philosophy professor in CAS, said the diversity of both the voices on the panel and the voices being heard by the panel have resulted in interesting discussions.
"The world is changing, so a university has to have aspirations that don't leave it behind," Dahlstrom said. "On the other hand, there are certain traditional things that the university has done, and it would be a pity to lose that through the desire to keep up with the times."