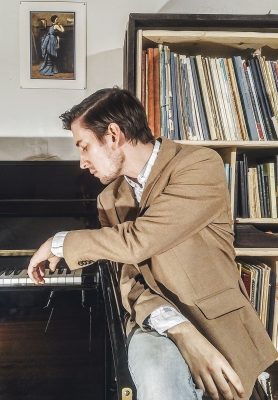 Pierre Nicolas Colombat, a doctorate of musical arts candidate in CFA, presented "Music, Monet, and Misnomers" and took to the podium to give a lecture on Debussy's controversial status as a member of the Impressionist movement.
Colombat, who first began playing piano at age five, said he found a deeply rooted connection to Debussy's artistry. As the son of a French father and American mother who both teach French, the language was an integral part of his upbringing as a child and a musician.
"I can really feel when I play his music that he was looking for something beautiful — that he, Debussy, thought was beautiful — not what French society would think was beautiful," Colombat said in an interview.
Colombat said in the lecture that Debussy was both the definition and antithesis of French culture at the artist's time. It was Debussy's ability to blend genres while creating an intrinsically French soundscape, Columbat said, that made him "one of the most significant French composers in the history of French composers."
"Debussy is one of the leading figures at a time when the cross between the arts was increasing more and more," Colombat said. "And now the door is blown wide open, so anything is anything."
The crux of Colombat's presentation marked the distinction between Impressionist painters and the musicians who lived during the Impressionist era.
Gila Goldstein, chair of CFA's Piano Department, said she hoped the lecture would encourage students to explore the implications of calling a musician an impressionist.
"It's food for thought," Goldstein said. "The musicians who wrote at the time were titled by the same name, but it's actually a topic for discussion, because Debussy himself resented that name."
Goldstein, who organized the lecture, said she found Colombat's presentation helpful in defining the Impressionist movement itself.
"Impressionism is very crazy. There's no defined lines — it's all about color and different shapes of colors," Goldstein said. "It's not just about describing a specific object, but it's more about … what does it evoke, and what does it make you feel?"
In between his PowerPoint slides, Colombat took to the grand Steinway piano behind him. As he played the first notes of Debussy's "Nocturne No. 5 in B Flat Major," Owen Dodds, a first-year graduate student in CFA, nodded along to the performance.
Dodds, who said he was a big fan of the lecture, said that Debussy had an affinity for adding layers of "light" to his music.
"I like what he said about the different sources of light coming from different angles," Dodds said. "This is a C minor chord, and then all of a sudden you have an F major underneath it, which shines a new light, and a window opens, and a new light comes in, which I thought was interesting."
Goldstein said she sees this light in Debussy's series of preludes through his decision to wait to title his pieces until the very last page.
"[Debussy] wanted people to expand on their imagination and not necessarily … imagine what he had in mind," Goldstein said. "He wrote the title at the end of the piece. He wanted the music to evoke some different opinions, different feelings."
As a musician and performer, Colombat said he feels a strong sense of desire from Debussy's pieces.
"I am inspired by this combination of intense inner human desire and searching for something and also extreme detail in his composition," Colombat said. "That's something that you find in few composers — this extreme desire to search for something new."
Despite scholarly comparisons between Debussy's music and Monet's paintings, Colombat said the key to avoiding mislabeling a musician's era or movement is simple: trust what you know.
"When you're encountering a piece of art, don't try and translate it," Colombat said. "Don't try and explain too much of what's going on to the point where you put labels on things."
For Colombat, humility is the best method of approaching another composer's work.
"Being humble, for me, in this case means that you let the work of art speak for itself, and you don't try to add on too much of what you think the piece of art is doing because everybody will interact with it differently," Colombat said. "We need to be humble and let pieces of art be themselves and not use too many labels."