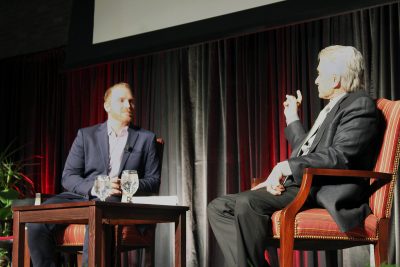 Excited chatter filled Metcalf Hall Wednesday night as the packed room waited to hear from a Hollywood legend.
Michael Douglas, a two-time Academy Award-winning actor and producer, received the Bette Davis Lifetime Achievement Award at a ceremony hosted by The Howard Gotlieb Archival Research Center and the Bette Davis Foundation. Douglas was honored with an extensive tribute to his life and career.
The three-and-a-half-hour event began with a reception in the Ziskind Lounge. There, attendees could view the HGARC's new exhibition on Douglas, titled, "Michael Douglas: Actor, Producer, Humanitarian." The exhibition has since been moved to Mugar Memorial Library for public viewing.
Following an hour or so of perusing the new exhibition, attendees took their seats in Metcalf Hall.
"Now I know how to fill up the ballroom at Boston University — invite Michael Douglas," said HGARC director and curator Vita Paladino as she began her introductions for the evening.
While Douglas was the guest of honor, Wednesday's event served as both a tribute to him and the late Bette Davis.
The Bette Davis Foundation, formed by Davis' son, Michael Merrill, and friend, Kathryn Sermak, seeks to honor the legacy of an actress who was a two-time Academy Award winner and deeply involved in activism throughout her life.
"They give these kinds of awards to bring attention and let people know about the foundation and to perpetuate the legacy of Bette Davis, who was a strong, smart actress," said HGARC associate director Sean Noel.
Merrill and Sermak presented the Lifetime Achievement Award to Douglas for his long career in the entertainment industry and his philanthropic endeavors, such as his 2011 fundraiser to raise $1.5 million for Montreal's Jewish General Hospital, the hospital that cured his throat cancer.
Recently, Douglas has worked with the Oral Cancer Foundation to create a public service announcement about the dangers of oral cancer and the importance of regular screenings to prevent the illness in its early stages. The PSA began airing nationwide in June.
Other notable recipients of the award include Meryl Streep, Lauren Bacall and BU alumna Geena Davis.
Following the reception, a montage reflecting on Douglas' career was shown. The video clips from films such as "Wall Street" and "Fatal Attraction."
"He just has a very strong presence on screen," said Cam Andrews, a freshman film and TV major in the College of Communication. "Watching him, I feel like you're naturally drawn to his performance."
Douglas then sat down on stage with BU alumnus and NPR reporter Jeremy Hobson to discuss the actor's career.
Throughout his conversation with Hobson, Douglas touched on his relationship with his father, the slew of drunken Wall Street bankers who have shouted, "You're the man!" at him over the years and his advice for students who want to pursue a career in acting.
"First off, everyone's always rushing to get out of here," Douglas said, before encouraging students to take advantage of the resources available for aspiring actors in college. "Embrace your university experience."
Douglas also discussed the work he's done on his new Netflix series, "The Kominsky Method."
Nicolette Archambault, outreach and operations administrator for HGARC, said she felt Douglas' words struck a chord with students, particularly those pursuing acting.
"Just having someone [to say], 'Yup, I was in your shoes once, don't worry,' I think really helps," Archambault said.
Andrews said he gained a newfound appreciation for the actor's storied career after hearing Douglas talk about his charitable endeavors.
"We got to see him watch his own movies and everything," Andrews said. "We got to see that side of him, but then we also got to hear about his activism. It was great that they were able to honor both sides of him."
CORRECTION: A previous version of this article incorrectly stated the ceremony was held at The Howard Gotlieb Archival Research Center and the Bette Davis Foundation. The event was held at the George Sherman Union. An updated version reflects this.