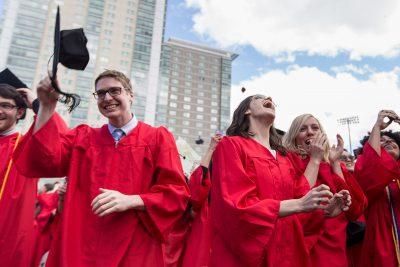 An annual student engagement survey published Nov. 29 found that students are confident in their post-graduation plans and think what they're learning is relevant to their career paths.
The National Survey of Student Engagement (NSSE), conducted by researchers at Indiana University Bloomington's School of Education, found that 93 percent of seniors believe what they are learning in college is relevant to their career paths.
Most students are confident in their post-graduation plans, according to the survey's findings. The confidence level changes slightly with the type of major, with arts and sciences majors being slightly less confident in their career plans than those majoring in professional fields.
Boston University was one of the institutions surveyed, said Louis Gaglini, executive director of BU's Center for Career Development. He said the survey's findings — that students are confident and feel that their studies relate to their chosen career paths — are also reflected in the First Destination survey that the CCD conducts every year.
Gaglini said he has seen BU students develop a more positive outlook on their post-graduation plans in recent years — they see a direct correlation between taking advantage of experiential learning opportunities, such as internships, and having more success after graduation.
He said more students are utilizing career resources, which also correlates positively with their post-graduation success.
Liberal arts students have the opportunity to explore different fields easily, Gaglini said, while professional programs are often more focused. However, he added that core competencies developed in certain fields can be transferred to other industries.
"I think the bottom line is that your academic work does not dictate what you will do," Gaglini said. "Of course, there are some programs that are more focused than others, but in most cases, students have the ability to translate and transfer over to different fields."
Patrick Nelson, director of career services at BU's College of Communication, wrote in an email that COM also sees a connection between students using career resources and being more confident in post-graduation plans.
"The students we meet with and work with are often anxious when faced with the prospect of pursuing their first full-time professional opportunity," Nelson wrote. "However once they engage with our office, services, and resources, they're much more confident in executing their search."
The CCD provides many resources to help students explore their careers, Gaglini said, such as interviews with potential employers, networking opportunities and guides on building resumes and writing cover letters. These services are available to all BU students, not just seniors, he said.
Esiri Madagwa is a senior in the College of Engineering who plans to work with a youth service program in Nigeria for a year and then apply to graduate schools for acting. He wrote in an email that he is pretty confident in his post-graduation plans and that he's seen varying levels of confidence in his friends.
"I really think it depends on the major and who you talk to," Madagwa wrote. "But we'll all get something eventually."
College of Arts and Sciences senior Joseph Sisto wrote in an email that he thinks seniors who find their studies irrelevant to their future careers are "probably doing something wrong." He wrote that he thinks seniors' confidence levels in post-graduation plans vary by major, but are generally high.
"I've seen that more Questrom kids have job offers or job selections at this point than STEM kids," Sisto wrote, "but by and large we're fairly confident about what we want to do postgrad."
The NSSE surveyed students from about 511 different institutions, said Jillian Kinzie, associate director of the NSSE Institute. First-year students and seniors answer a variety of questions about the quality of their undergraduate experience for the survey.
"We're trying to help institutions use data to improve the quality of undergraduate education," Kinzie said. "These are practices that we know matter for student learning and development, and the more students do them, the more they learn, the more quality experience they have."
The survey is also an opportunity to examine the higher education system as a whole, Kinzie said. The researchers want higher education officials to think more about preparing students for the 21st century workplace and making sure they have a high-quality undergraduate experience.
"I think some of the findings from this year are particularly important given the real attention that we've had over the last couple years about students' career preparation," Kinzie said. "It's heartening to see that students feel they're prepared to go out into the world of work and that college experience has helped them prepare."
Allison Bussert, a CAS senior who will be taking a gap year before pursuing a graduate degree in clinical psychology, wrote in an email that she is excited for — but not confident in — her post-graduation plans.
"It may be what we're doing, but it surely isn't easy diving headfirst into anything let alone the rest of our lives," she wrote. "I think that students may act confident because thats what you have to do in order to not freak out about the whole thing."