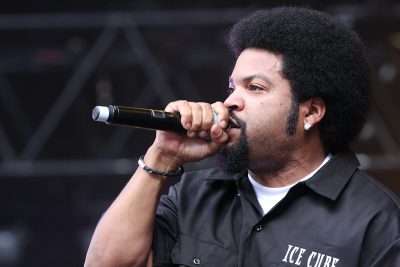 In today's rap scene, it's hard to be the best among names like Drake and Childish Gambino. Yet with over 30 years in the business, gangster rap legend Ice Cube has been welcomed back with open arms.
Back in the early days of rap, the genre signaled an urban uprising and call to injustice. LL Cool J was both loud and sultry, while Run–D.M.C. was just loud with a hint of rock and roll. Their records were ones that you loved and kind of hated, and especially listened to on high school ski trips.
Ice-T came about later with the beginnings of the explicit gangster rap genre that Ice Cube would later popularize.
While upper-middle-class critics pointed to its graphic and allegedly sexist language, true fans found inspiration and an abrupt call to action.
Ice Cube rose to rap fame among the original gods of rap and, of course, his own group N.W.A. He and N.W.A. revolutionized a new type of protest rap while trying to survive in Compton, a California city south of Los Angeles infamously known as a ghetto home to multiple gangs.
While their most notable single "Straight Outta Compton" was met with heavy criticism and was rejected by many radio stations, the track was widely purchased and listened to.
In the late '90s, Ice Cube began to make his solo transformation from hardcore gangster rap to contemporary rap, which often has a mainstream vibe. As he began a fairly successful acting career, he would still go on to release albums that gained critical acclaim.
This week, Cube returned to his protester spirit in his new solo album, "Everythangs Corrupt." As a veteran of rap, he benefits in that he can say exactly what he wants and knows his word will be worshipped. He stays ignited and angry on this record, giving original fans his classic mix of a political message and pure outrage.
He again demonstrates that he's too loud for trap, and his beats are too overwhelming for indie. Instead he sticks to what he's known for within his powerful niche of gangster and synth-rap.
In true Ice Cube fashion, he takes on the current political scene in this album. Always in favor of exposing injustice and oppression in his songs, he does just so starting with the album's first single "Arrest The President."
Without mincing words, Ice Cube calls for an uprising against current U.S. President Donald Trump. While back in the '80s he targeted corrupt police officers, today Ice Cube takes on corrupt figures in the White House.
He comes for the hatred and racial prejudice that the President has reignited since he has taken office, rapping, "Arrest the president, you got the evidence / That n—a is Russian intelligence," with his monstrous voice that lights a fire in listeners.
In "Chase Down the Bully," he targets the rise of white supremacists since Trump has taken office. He takes down the racist Tiki torchbearers in Charlottesville, Virginia, with a literal and violent call to attack them.
Lyrics like "Now, if he a fascist, I'ma bash his head in" make his call to action very clear to listeners and stays true to Ice Cube's classic rallying cries against injustice.
A standout on the record is the rare anti-addiction stance that Ice Cube takes in "On Them Pills." In his early career days with N.W.A., he was surrounded by drug users, and that was reflected in the records he produced with fellow members DJ Yella, Eazy-E, Dr. Dre and MC Ren.
At the group's peak, Eazy-E, who funded the group's record label with the money he earned from drug dealing, died of HIV/AIDS in 1995.
Cube finally takes his anti-drug stance on this single, calling out the glorification of drug use in early rap albums, including his previous works.
In your face lyrics like, "Them n—-s on them pills / Them b—–s on them pills / Poppin' s–t is why they can't pay they bills / They be sweatin' (Sweatin'), they need gills," address the current opioid crisis and the rise of drug use in younger and poorer neighborhoods.
The structure of the single comes off as an anthology chronicling the drug abuse he saw and the friends he could not save.
Modern or not, "Everythangs Corrupt" showcases Ice Cube's ability to stay relevant among today's legendary rap artists. His new record brilliantly showcases his uncanny ability to be pissed off and rally the masses while still featuring harsh beats that slap hard.
The future looks bright for this veteran performer as he continues to produce records and battle the youngsters.