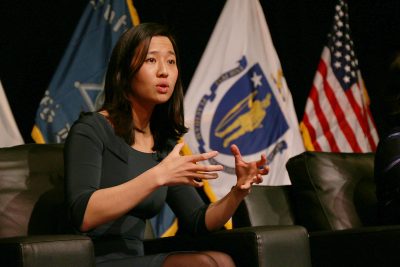 City Councilor At-Large Michelle Wu announced Tuesday that the Boston Youth Transportation Project study, conducted by her office, found that transportation concerns, such as cost and reliability, impede Boston students' abilities to follow educational and economic opportunities.
The project, led by policy fellow Lily Ko, collected responses from approximately 300 Boston students to assess the availability of transportation options in their neighborhoods and their attitudes toward each of the choices.
The project also considered how changes made to the transportation system, meant to meet Boston's climate change goals, could impact the city's youth, such as reducing transportation emissions, set in 2005, by 50 percent by 2030, according to a press release from Wu's office.
In the press release, Wu said the report revealed that young people are not able to access opportunities because of the lack of reliable service and transit policies.
"We often talk about transportation challenges from the perspective of employees and the economy, but it's important to highlight just how significantly transportation challenges are shaping the lives of Boston youth," Wu said.  
During the school year, BPS provides free M7 passes for students who live outside of a designated walk zone from their schools, ranging between 1.5 miles and 2 miles, depending on their school grade.
Ko, a Tufts University graduate student in the Urban and Environmental Policy and Planning program, said in an interview that not every student gets an M7 who needs one. She said students have reported feeling trapped, especially during summer months, due to the lack of affordable transportation.  
"There is a discrepancy between who received an M7 pass from their programs and who didn't," Ko said. "Some kids had it kind of free the whole summer, some had it for one month, and they had to pay for another month, and then some students did not receive a transit pass at all. Depends on the kinds of summer programs they joined or from their workplace."
The report states that the biggest issue with the M7 walk zone policy is that it causes students to miss opportunities. Students reported activities that their schools provided, such as sports practice, advanced placement classes and seminars, which they could not get to.
Robert Daniels, 42, of Jamaica Plain, said he thinks the cost of transportation should be subsidized from schools.
"Students need more of a discount," Daniels said. "It can get very pricey over time, so the schools can help us pay for it, lower costs, offer deals or offering T cards. That would be good as well."
According to the report, transportation challenges also affect students' personal lives, the most common consequence being tardiness to school. The report states that 17 percent of students skip breakfast to get to school on time due to how long their commute is.
"The biggest problem is that this is time that they can spend doing other things besides trying to figure out their transportation on a daily basis," Ko said.
Ko, who started on the project in June, said the problem of students not getting an M7 card is not new.
"If you search online, you'll see that there are already other articles about it from a couple years ago," she said.
Ko said the M7 is highly valued among students.
"Just yesterday, a kid said if you want to get kids to show up at this event, like raffle off an M7," Ko said.
Andy Vo contributed to the reporting of this story.