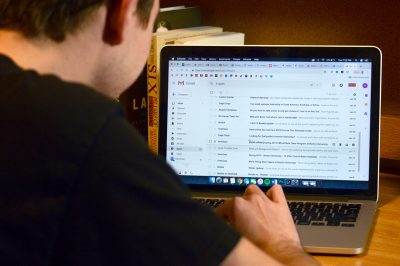 The Boston University Police Department sent an email to the student body Feb. 1 detailing five incidents reported to since Dec. 12, 2018 that involve students responding to fake online job opportunities.
BUPD Lieutenant Daniel Healy said that students need to use critical thinking to identify frauds in order to avoid falling for them.
"The key for people to understand is no matter what the story or the plot of the scam is," Healy said, "once you receive an email from an unsolicited person that's asking you to send back untraceable funds, you must stop and pause and ask some questions about whether or not you should be doing this transaction."
Healy said the students who engaged in the fake job scams were sent a check in the mail and told to deposit the check, so that they could send that money back to the scammer in the form of gift cards.
Giving a scammer gift card codes is essentially like giving them cash, Healy said, because the money is untraceable. BU is providing information about the scams to as many students as possible to combat them.
According to Healy, BU is not the only target of these scams. These operations target large portions of the United States, and tailor specific messages to more local areas in a process Healy referred to as "scooping."
"They're really scams that go all over the United States, and it's not a localized problem," Healy said. "In this case, they tailor the message so some of the emails might actually read like 'bu.edu.'"
BU spokesperson Colin Riley said multiple police agencies are investigating the scams.
"It's unfortunate that students are falling victim to this type of activity," Riley said. "It's a cautionary tale [to] everyone that interacts with people on the phone or through email or text that they not fall victim to this."
Riley said that although these scams may appear to be depositing real money into a student's account, banks will later detect the fraudulent checks and the student will end up having lost money.
June Woo Lim, a freshman in Sargent College of Health and Rehabilitation Sciences, wrote in an email that he was targeted by a scammer who had figured out his major.
"I don't know how this scammer knew I was a predental student, but I got an email detailing job descriptions for an assistant/secretary job for a recent BU GSDM [Goldman School of Dental Medicine] grad," Lim wrote. "I thought something was wrong and didn't take any action."
Mariah Brooks, a sophomore in the College of Communication, has also been targeted by scam emails.
"They picked a good target [with] college students," Brooks said. "Like we're all broke, of course we're looking for a job. I can tell you off the top of my head I've probably received like three so far."
Brooks said she is happy that BU is taking the scams seriously and warning its students.
"I don't even know if there's much that they can do," she said, "especially with today's technology, like it could be anybody sending those emails."
Amar Kaul, a senior in the College of Engineering, said that he believes students should be smart enough to realize if they are getting scammed or not.
"I don't know if BU has to do anything to combat these scams," Kaul said. "But obviously it's good that they want to help their students out."