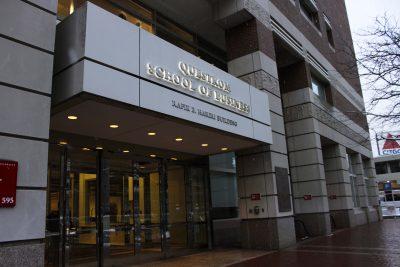 The Human Resources Policy Institute at Boston University announced Feb. 14 that it will award $40,000 in grants to doctoral students and faculty across the university for research into modern human resources issues in the workplace, such as gender inequality and foreign workers paying to work in the United States.
This is the first year that HRPI, an organization run through the Questrom School of Business, has awarded research grants to students and faculty.
Evan Apfelbaum, the research director for HRPI and a BU associate professor of organizational behavior in QST, said this is something HRPI hopes to do annually.
"This is a brand new initiative," Apfelbaum said, "… and my intention is to make this something that is regular and increases in how many people it can support."
The grant money was awarded to seven research projects that study issues such as formerly incarcerated people reentering the workforce, whether corporate boardroom gender diversity is associated with greater corporate social responsibility, the #MeToo movement and gender differences in payroll negotiations.
"[We] identified seven research awards that we thought were the most exciting and promising to change the way people think about the workplace and that deal with HR-related issues broadly speaking," Apfelbaum said.
Fred Foulkes, who is also a professor of organizational behavior in Questrom and is the faculty director of HRPI, said it was one of the institute's goals this year to expand funding to the university as a whole, not just for Questrom students.
"We decided to broaden our reach, and instead of just expecting people from the school to make grants, we sort of opened it up to the wider university community," Foulkes said. "… We're really delighted that we got so many proposals."
Apfelbaum said that HRPI is proud of the reach the projects they are funding will have across multiple BU colleges and faculty.
"One of the things I think is really exciting is everybody is unified by these really timely issues that we hear about on the news, and it's really distributed across the institute in a way that I think makes it speak to a broader audience," Apfelbaum said. "I think that the issues are not just issues of business, as you can see like social issues, and issues of diversity, and MeToo are things that cut across all these disciplines and schools and are really aligned with BU issues."
Questrom Dean Susan Fournier wrote in an email that she thinks the research funding is important, especially in today's workplaces.
"A healthy culture is critical for a healthy organization and astute navigation of these cultural issues will distinguish the high performing organizations of tomorrow," Fournier wrote. "We are excited and energized by the supportive role HRPI is playing in funding promising doctoral/faculty research that touches on these human resource issues."
Reva Bardhi, a freshman in Questrom, wrote in an email that she thinks the research into gender inequality and harassment is of particular significance.
"Business is obviously a very male-dominated world," Bardhi wrote, "and when I was considering going in to it, I was very aware of the pressures and structures in places that limited me."
Bardhi wrote that once claims of sexual assault started coming out through the MeToo movement, she doubted her career plan.
"I seriously reconsidered changing my major in order to protect myself from it all," Bardhi wrote.
Sophia Tafesse, a sophomore in Questrom, said she thinks it is good that Questrom is looking into the gender wage gap.
"I feel like as a woman it's very important to me because there are many cases where guys have been receiving more money than girls," Tafesse said. "… As a female I have been looked down upon in the workplace, and so for Questrom to be putting in money towards that is something that is important to me."