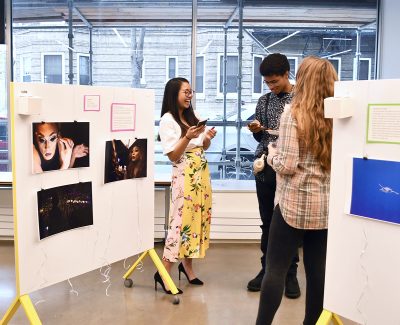 Photographs of all kinds — from portraits to polaroids — of a range of subjects such as sea creatures and microscopic organisms adorned the walls of the Boston University BUild Lab last week. The center's Innovation Week began on April 20 and ran through Friday, hosting student demonstrations of innovation projects and ideas.
Previously, the BUild Lab, which is home to [email protected] programs, has focused on STEM and business-related projects and events. But Blake Sims, the program director for social innovation at the lab, said she wants to ensure the arts get the spotlight they deserve, as well.
The I.M.P.A.C.T. Film and Art Festival took place on April 25, combining arts, technology and innovation to express the importance of creativity in every field, according to Sims. The festival featured a student gallery, live performances, a student film competition, a photography contest and a late-night screening of the film "Meow Wolf."
Hailey Hart-Thompson, a sophomore in the College of Communication and College of Arts and Sciences, said she brought the idea of the photography contest to Sims. She said adding this component to the event helped contribute to the festival's atmosphere.
"It grew to be this full night of creativity," Hart-Thompson said.
Sims said it was important to promote diverse collaboration when bringing the art and film festival to life. Many different students and schools within the university worked together to organize Innovation Week, including COM, the Questrom School of Business and the College of Engineering, she said.
This collaboration is reflective of the interdisciplinary mission behind the BUild Lab, she added.
BUild Lab events are partially led by students, Hart-Thompson said, and all the ideas come from student leaders themselves. This demonstrates the BUild Lab's commitment to student-run innovation and leadership, Hart-Thompson said.
At the I.M.P.A.C.T. festival Thursday night, attendees were encouraged to view the student photography, vote for their favorites, immerse themselves in student films and mingle with leaders from the BUild Lab. Sims, Hart-Thompson and other BUild Lab leaders organized this night to emphasize the importance of art to students in every school, Sims said.
"All of us are innately creative beings," Sims said. "But a lot of times that creativity takes a backseat to other things, like school."
Sims understands firsthand the challenges of balancing school with photography and said that has inspired her to organize the annual film and arts festival.
"People are hungry for that opportunity to express themselves," Sims said.
According to Sims, I.M.P.A.C.T. encourages BU's different colleges to participate in the arts by allowing students of any major to submit photography, screen their film or just attend.
"Everyone has something to bring to the table," Sims said.
Sam Macriss, a freshman in CAS studying political science, said she enjoyed the opportunity to explore topics she doesn't typically engage in within the confines of her academic classes.
"In the College of Arts and Sciences, I don't get a lot of exposure to the arts," Macriss said, "so being able to see this in the BUild Lab and even see other CAS students' art and photography was really impactful."
Hart-Thompson said the I.M.P.A.C.T. festival specifically reaches students who wouldn't typically use artistic creativity in their academic coursework.
"Artists outside of COM or CFA can submit work or just enjoy the event, bringing people who are traditionally STEM majors into the arts," Hart-Thompson said.
She said any student can come to the coordinators with ideas and art through the BUild Lab's newsletter, the website or by appointment during BUild Lab office hours.
People often don't give enough credit to art as a form of innovation, according to Sims.
"It was really important that we emphasize the creative aspect of innovation," she said. "It takes a lot of innovation to create a movie idea, edit a photo or paint a new piece, even if it isn't normally included in the category. The BUild Lab is traditionally STEM, so the leaders wanted to include a night of appreciation for artists' innovation."
As the BUild Lab plans to hold the I.M.PA.C.T. festival annually, the innovation center is anticipating more diversity and inclusion, according to Hart-Thompson. But the current goal, she said, is to reach out to more students interested in the creative side of innovation and allow them to express interests their university may not focus on.
"We try and create this space where no matter what idea you're working on," she said, "everybody has something to bring to the conversation."