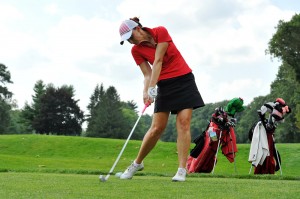 Playing in its third tournament of the season, the Boston University women's golf team had another strong showing at the Diane Thomason Invitational at the University of Iowa.
The Terriers went into the tournament with confidence after finishing sixth in a pool of 16 at the Yale Intercollegiate from Sept. 26 to 28, and first overall at the season-opening Dartmouth Invitational on Sept. 13 and 14.
At Dartmouth, BU posted its best 36-hole score in program history, finishing with a total of 595. Its one-day score of 291 on Sept. 13 was also a program record.
This weekend marked the Terriers' first appearance at a Big Ten Conference event, and they placed seventh of 13 teams. As a team, BU shot 958 (331-318-309) over the course of the two-day, 54-hole event.
Looking to build off recent individual success, the Terriers were paced all weekend by junior Emily Tillo, who shot a 237 as she posted scores of 80-81-76 in order to finish tied for 21st overall at the tournament.
The 2013-14 Patriot League Women's Golf Scholar-Athlete of the Year is coming off a stretch that merited Patriot League Golfer of the Month honors after earning her first collegiate victory at the Dartmouth Invitational.
Alongside Tillo, senior Kristyna Pavlickova notched a 239 with single-day scores of 84-77-78 to finish five spots behind Tillo at 26th overall. Senior Flor Canedo and sophomore Adela Cejnarova tied for 47th overall as they both posted a 244, shooting 83-84-77 and 84-78-82 respectively.
Meanwhile, freshman Phyllis Tang competed with her veteran teammates admirably, shooting a two-day total of 245 (85-82-78) to finish 48th overall behind Canedo and Cejnarova.
BU is preparing for its final tournament of the fall this week when they will compete in the 54-hole Courtyard Classic hosted by Jacksonville University on Oct. 13 and 14.